Meet Move It Mama Trainer and Mum-to-Be, Charlotte Twigg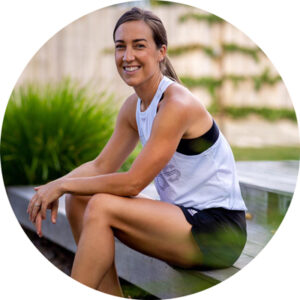 We spoke to Charlotte Twigg, māmā to be and trainer at Move It Mama, the online fitness community designed for women getting connected through exercise.
Kia ora Char. Can you start by introducing yourself? Tell us about your family, where you live, and what you do for work?
Hello! So, I am Char – the youngest of the Mizzi clan – six minutes younger than my twin, Jess, four years younger than my sissy, Leece, and six years younger than my big brother, Nick, the King of the family. My siblings (and parents) all live down south but I live in Cambridge with my wife, Emma. We met shortly after I moved home from Sydney after seven years, but as Em rows for a living we moved to Cambridge to be near Lake Karapiro. We love the small-town life! I commute into Hamilton for my full-time job as GM Commercial and Experience at Northern Districts Cricket, supplemented by my Move It Mama workouts, podcasts, bootcamps, photoshoots, and other Move it Mama commitments!
You and your wife Emma recently announced you're expecting your first child – congratulations! What was the journey to pregnancy like for you?
We did! Thank you. We are both so pumped! We waited to have our 20-week scan before announcing anything official. Although I told the Move It Mama family at 12 weeks, so they knew what was going on for us. Like many, the process to get to this point took us longer than expected, with some difficult times along the way. IVF Is not the easiest process but something that so many people go through. It can be heart-breaking and very deflating when it doesn't happen straight away. But that is the reality for many.
How have you been feeling physically and emotionally in your pregnancy so far?
Feeling pretty good now at 22 weeks but goodness me the first 14 were rough. I know that compared to most I was actually very lucky, but I just felt constantly hungover and had that feral metallic taste in my mouth all day. It really isn't 'morning' sickness at all – it hangs around all day! I'm past that and feeling good. I'm in bed before 9pm most nights but that isn't too abnormal for us, ha!
View this post on Instagram
View this post on Instagram
What have you loved the most about being pregnant and what have you found most challenging?
I've loved the joy this news has brought to people – our family, my wife, our friends, our work colleagues. I think there's been a genuine happiness for us and that makes me feel very special and grateful for the people we have around us, particularly being a same-sex couple. Most challenging would be the acceptance of the physical changes to my body. I feel very lucky to be where I am now and finally feeling kicks, it's all becoming very real. But I think like many women, I like to keep active and stay fit, so no longer fitting your clothes (and bras!) can be an adjustment.
Being healthy and active is integral to your lifestyle. How has your relationship with exercise evolved since becoming pregnant?
I've kept exercising throughout and am so thankful I have that desire in me to exercise while pregnant. Thanks to my sisters, I've changed my live Move it Mama workouts to be two Back to Basics sessions (slower, modified workouts) and one Box Jam session (a higher intensity workout). The fact we've been able to make that shift has been so great. I do my three live sessions and probably one additional workout, with the odd walk around the block. I have accepted I need to slow down and protect my baby/body, but personally I haven't struggled with that at all as we've wanted this for so long.
How did you come to join Move It Mama? What has it been like being a part of such a movement with your sisters?
When Leece founded Move it Mama, I was living in Sydney. Slowly but surely, as Move it Mama and the workout offering grew, Leece needed benchwarmers. We were initially brought in maybe a year after Leece started it, and I had moved back to Wellington. We would pop in for a live session when Leece was perhaps a bit injured or had other commitments. With four beautiful sons and a growing business, it was inevitable we would soon become a permanent fixture I think. When I'm asked that question of what it has been like, I pinch myself. I LOVE what we do. It brings so much joy to so many people and the connections we make are so, so powerful. I just wish we could hang out with all our members in person heaps more – those moments when we finally meet a member in person are the absolute best.
View this post on Instagram
Tell us, why Move It Mama? What does your programme offer that others may not?
Three sisters keeping it real. Nothing fake. Nothing forced. Raw, authentic, and honest reflections of the people we are. Just Leece, Jess and Char, getting a ripsnorter kick out of inspiring people to move their bodies. Hope you know what I mean by ripsnorter. Ha.
What can exercise offer people during pregnancy? What are the benefits?
Aside from the obvious mental health benefits of exercise, I think it is incredibly important we remain active during pregnancy for the benefit of our baby, and our body postpartum. I have no doubt staying active has an immediate boost in my energy levels, my mood, and helps me sleep better too.
And how about for postpartum māmā?
I think I can safely as 'as above'. The postpartum (and pregnancy) journey can be very different across people, but generally, once we have been cleared to exercise again after birth, the same applies. The mental health benefits, personally, mean the most to me. I know I'll be clearer in my mind, more in control, will have more energy, if I'm keeping active. We need to give ourselves the permission to spend time looking after our bodies and mind. It isn't selfish to spend time on you – ultimately creating a happier, healthier version of you.
What advice do you have for māmā who want to work out during their pregnancy but are worried about the safety aspect?
Ask people you trust. Go to sissy Jess who continues to educate herself on this; go to your pelvic health physio, seek advice. Ask questions, get clarity, so you have the confidence to move your body throughout your pregnancy.
What does self-care look like for you?
Time in the outdoors. Trips to the South Island to see my family. A home-cooked meal. Massage. Adele blaring through the speakers while I lie on the couch with my wife on a Sunday.
Tell us about a māmā who is your muse.
Steph Mizzi, my mum. The warmest mum I could ever ask for. She is beautiful. She makes a bed up for me a week before I'm arriving, with my favourite goldfish flannel sheets. I couldn't speak more highly of her, and I am so grateful she chose me. Her support of me, who I am, has been unconditional.