The Online Pregnancy + Postnatal Exercise Providers That Mums Love the Most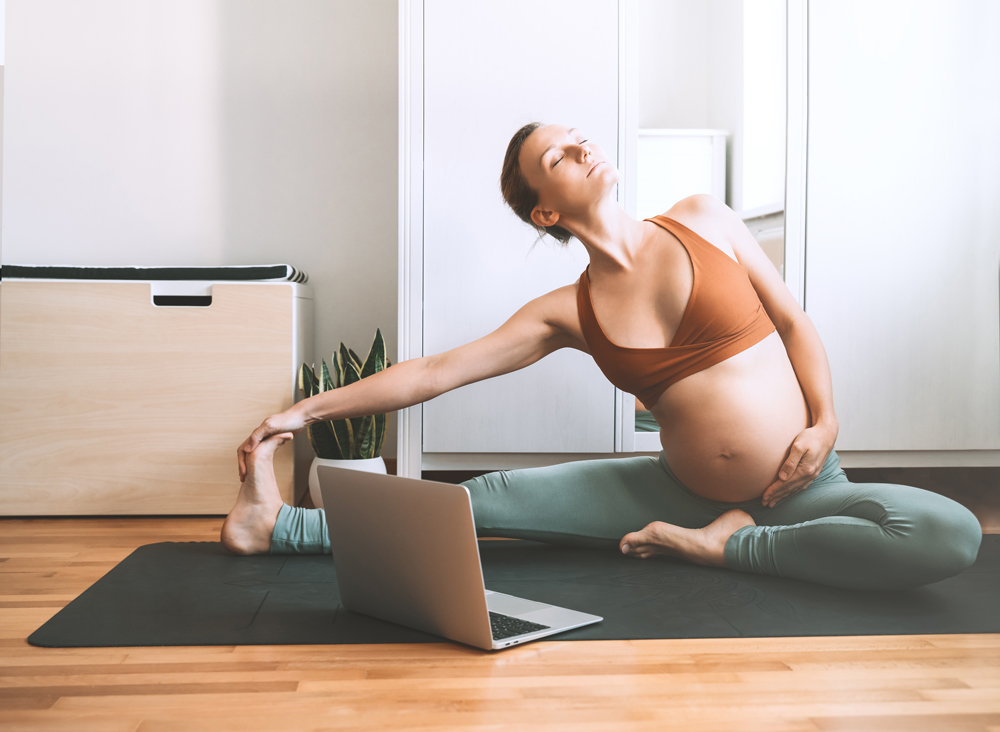 Being active throughout a low-risk pregnancy is proven to be safe and beneficial, helping to keep both you and your baby healthy. Exercise can also assist with preparing your body for birth. While working out postpartum can help strengthen your body again and promotes positive mental health.
One of the most common requests we get here at Soteria is for more exercise content, especially regarding how to do it safely during pregnancy and postpartum. In our experience, the best and safest way is to make use of a provider who offers specialised pre and/or postnatal workouts, this way you're taking part in a workout that is specific to your body's needs; it's designed by a fitness professional for the stage you're currently at.
Whether you have a child already or your first is on the way, most of us are super busy and struggle to prioritise getting to the gym. That's why we've compiled a list of online fitness providers so you can access their classes anywhere and any time.
Unity Studios
Unity Studios recently launched their online pregnancy and postnatal Pilates programs that are designed and taught by expert pregnancy and pelvic floor physiotherapists, including our resident expert Caitlin Day. The pregnancy program achieves the balance of safe exercise with challenging and effective workouts, taking you right through your pregnancy, from your first trimester to when you deliver. Their postnatal Pilates series supports your after-birth rehabilitation from six weeks postpartum and helps you achieve the rebuilding of your core, pelvic floor, and posture.
Subscribe to Unity Studios' programs for $29 per month or $149 for one year (giving you a saving of $199) after a 7-day free trial and gain access to all class content from pregnancy through to postnatal exercises. 
Move It Mama
Praised for being accessible and affordable, Move It Mama workouts are delivered online via their private Facebook community group. They provide 10 new workouts every week on Facebook Live, varying between their high intensity, strength, pregnancy/postpartum, stretching, back to basics, and jam classes. But even if you miss the Live session, you can watch and complete the workout once it's posted at a time that suits you. Each workout is around 20 minutes making them ideal for any busy māmā. The other great thing about the Move It Mama membership is that all of their previous workouts are stored in the Facebook group so if you're pregnant, for example, you can simply search for all the 'pregnancy/postpartum' workouts and revisit them as often as you like.
Join Move it Mama for $10 per month (cancel anytime).
She Moves
Created by full-time mums and qualified, award-winning trainers, Renee and Jenna, She Moves is an online fitness platform for women, with a special focus on pre and postnatal mums. Simply put, they offer 12 safe, effective workouts each week, covering everything from pregnancy-safe options, and pelvic floor and core restore, to barre style, power yoga, low impact, high intensity interval training (HIIT), weighted workouts, mobility sessions and more. You can choose to take part in the workouts as they're published live or replay to take part at a time that suits you. Three sessions per week are designed specifically for pregnancy but there's plenty of archived workouts for you to access too. Likewise, if you're postpartum and have specific concerns like prolapse or abdominal separation, their 'She Moves – Pelvic Floor & Core Restore' workout has been designed especially for women like you.
Join She Moves for $10 per month (cancel anytime).
Wild Pilates
Founded by Pilates instructor Laura Mohi, Wild Pilates was established in 2016 as an Auckland-based boutique studio before transitioning to an online-only offering last year. Loved by the likes of Hannah Barrett and Laura McGoldrick, there is a dedicated prenatal section with over 40 workouts that are safe and effective for pregnancy, and over 20 postpartum workouts to help mums with their post-birth recovery, strength, and stabilisation. New workouts are added weekly and you'll also have access to the entire library of 200+ videos.
Join Wild Pilates' online membership for $19.99 per month, or an annual payment of $199.99 after a 7-day free trial.
KC Fit @ HOME
Designed especially for the postpartum māmā, KC Fit @ HOME is described as an "online fitness membership for mums who want to work out safely from home, tighten their mummy tummy and sneeze without wees." Your membership gives you access to a library of over 100 workouts and two new weekly Live workouts with founder, mum, and personal trainer, Kirstyn Campbell. The workouts range from 4-45 minutes, at varying levels of intensity – foundational, feeling confident, and advanced – so there's exercise sessions to suit everyone at any stage of fitness.
Join KC Fit @ HOME for $10 per month (cancel anytime) or $299 for an annual membership which gives you a saving of $167.
Topknot Yoga
Topknot Yoga is a home yoga membership program specialising in fertility yoga, pregnancy yoga, and yoga for mums. So, wherever you are or whatever time it is, whether you're a total newbie or an advanced yogi, you can lean on founder, Lynley's classes to support you physically and mentally, no matter where you're at in your motherhood journey. Lynley has trained extensively in fertility, pregnancy, and postnatal yoga and has completed additional courses in diastasis recti and pelvic floor, ensuring safe and supportive workouts. There are six pregnancy sessions ranging from 20-35 minutes to take you through your second, third, and fourth trimester, and for those who are postpartum, there are 40 sessions ranging from 15 mins – 45 minutes so you can find a video that will fit in with your baby's nap time or you can have them join you on the mat.
Subscribe to Topknot Yoga's pregnancy yoga for $39 per year, or subscribe to their mummy yoga for $15.50 per month or $120 per year.
Good Form Body
Embrace weekly wellness with yoga classes from Good Form Body. Created by mum and experienced Vinyasa yoga teacher, Kate Mason, there's an array of classes in the online library to suit everyone from the budding yogi to the well-versed attendee. Having trained in pre and postnatal yoga, Kate has carefully created six prenatal and five postnatal classes (two of which can be done with your baby) especially for the pregnant and postpartum body. Even if you haven't tried yoga before, there's no better time to be introduced to the physical and mental benefits than in your pregnancy.
Join Good Form Body's online yoga classes for $10 per month (cancel anytime) or $110 for a one-off annual fee.