A List of Birth Preferences to Consider for a Caesarean Section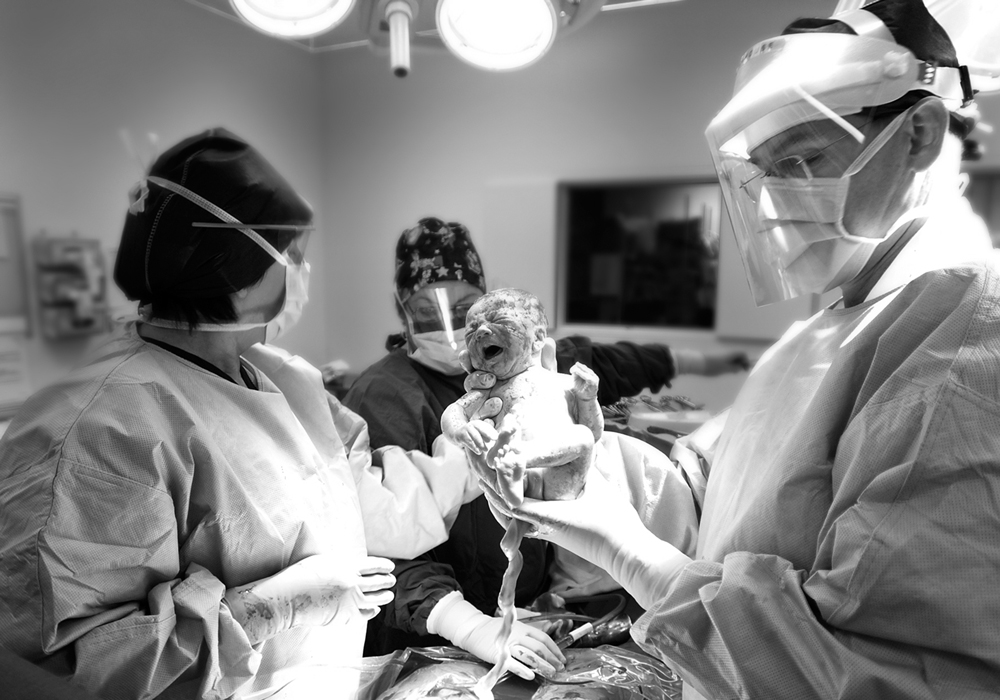 Here are some preferences you may want to consider if you are having a c-section birth. You can always ask!
Whether you're planning to have an elective caesarean or you're simply considering your preferences in case you end up having an emergency c-section, it's always a good idea to discuss your options with your LMC and birth support person so they have an understanding of your wishes.
A caesarean section is a routine surgical procedure and there are hospital protocols that must be followed for you and your baby's safety, but there are some things you might like to consider when discussing your preferences for the birth of your pēpi. Do keep in mind that every DHB and hospital is different with the options available, which is why it's a good idea to talk about your preferences with your LMC and/or obstetrician ahead of the birth to determine what's possible.
Some people love to create a clear 'birth plan' document while others are more go-with-the-flow types; wherever you sit, it's important to remember that things don't always go to plan with birth, even in a c-section, so you may want to have a contingency or plan B, just in case.
Either way, here are some preferences to consider or questions to ask at your next antenatal appointment:
Who would you like to be your support person in the room with you when you're giving birth? If you have a regional anaesthetic (spinal or epidural), you have the legal right to have one support person present throughout the birth. In the instance of needing to have your caesarean under general anaesthetic, your support person won't be able to be present in theatre as you will be asleep for the operation.
If you are having an elective (planned) caesarean, you may wish to ask if it's possible to have an additional person in the room, such as a doula or birth photographer.
What sounds would you like to hear during the birth? You may like to have a playlist or birth affirmations track playing, for example.
Would you like to have the IV catheter, oximeter, and blood pressure cuff placed on your non-dominant arm so you can more easily hold your pēpi?
Would you like to have the surgery explained to you as it's happening?
Would you like to have your baby delivered slowly?
Would you like to have someone taking photos or videos of your baby being born?
Would you like to have a clear drape or to have the drape lowered as your baby is born?
Who would you like to announce the sex of the baby, if you haven't found out during pregnancy?
What are your preferences for delayed cord clamping? Delayed cord clamping of at least 60 seconds is standard practice in most hospitals in Aotearoa when circumstances allow.
Who do you want to cut the umbilical cord?
Would you like to use a plastic clamp or a muka pito tie for the umbilical cord?
Would you like to have immediate skin-to-skin? If you are unable to have skin-to-skin with your baby right away, would you like your support person to do so instead?
Would you like to immediately breastfeed your baby? In some circumstances, it may be possible to have ECG monitoring equipment on your back instead of your chest so you initiate feeding while still in theatre.
Would you like to have your baby's assessments and checks done after skin-to-skin/breastfeeding or before?
Do you need an interpreter or someone to sign for you?
Do you have any special needs or require any special equipment?
Do you have any cultural or religious requirements for your birth?
What do you want to do with the placenta/whenua following birth?
Remember that while it may not be possible to have all your requests implemented, you can certainly facilitate an open discussion with your doctor or midwife to ensure you have a positive and empowering c-section experience. If you have a preference or a question about your options for birth, it's always a good idea to ask!