What Happens to My Baby After Birth?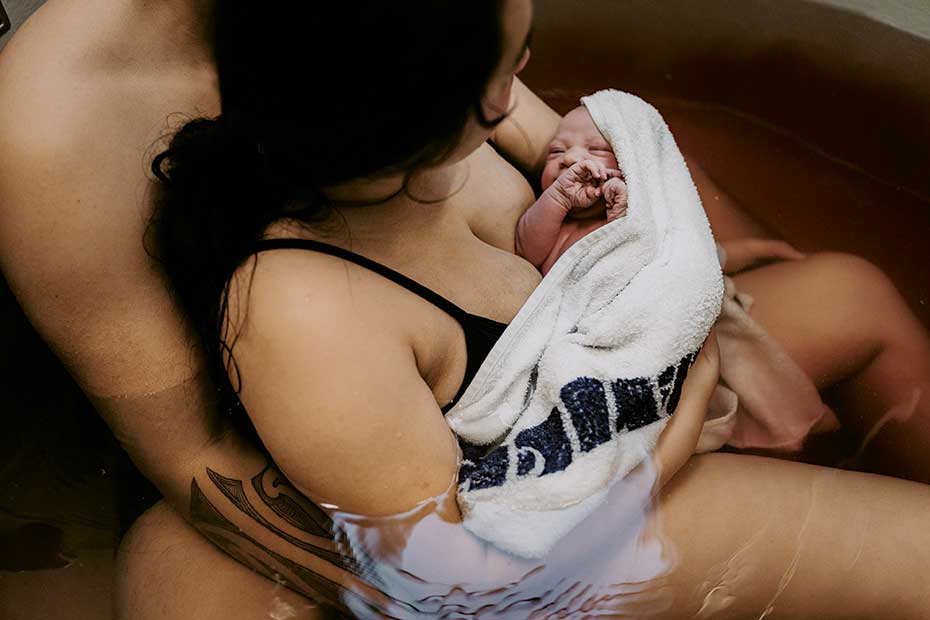 What to expect for your
pēpi after they born.
Skin-to-skin
Provided your pēpi is healthy and well, as soon as they are born, they will be laid naked on your bare chest for skin-to-skin with their face positioned sideways to keep their airway open. You will both be covered in a warm blanket and left to enjoy this first cuddle for at least an hour and until after the first breastfeed. Your baby will also have a hat placed on their head to keep them warm. Even if you have a caesarean or your baby needs special care, you will be encouraged to have skin-to-skin at the soonest possible moment. If you are unwell or unable to hold your baby for any reason, you may nominate someone else – such as your partner or birth support person – to have skin-to-skin with your baby in the meantime.
Skin-to-skin contact between you and your pēpi is incredibly beneficial as it:
Encourages breastfeeding.
Regulates your baby's temperature.
Helps to control your baby's heart rate.
Exposes your baby to bacteria on your skin which promotes gut health through the antibodies in your breast milk.
Stimulates the love hormone, oxytocin which increases lactation and develops bonding.
Helps your baby feel calm, safe and comforted – they will cry less.
Aids in the expulsion of the placenta from the uterus for its delivery, reducing your chances of haemorrhaging.
Skin-to-skin contact is good for all babies at any time and is encouraged for many weeks following birth until breastfeeding is well established. Whenever you breastfeed your baby, you can remove your bra and top to feed them skin-to-skin.
For more information on the importance of skin-to-skin contact, see KidsHealth NZ.
The earliest chance to have skin-to-skin is the best time but it's never too late to start. You can't have too much either – soak up those sweet newborn cuddles!
First breastfeed
While your baby is on your chest for skin-to-skin, they will instinctively move towards the breast using their sense of smell to navigate before latching all on their own. This natural process is referred to as 'the breast crawl'.
Breastfeeding should be initiated within the first hour while having skin-to-skin contact. When your baby latches on for the first time, your body will release a hormone called oxytocin which is known as the love hormone, helping you and your baby to bond. If you need assistance with your baby's latch, your midwife can help you.
Breastfeeding straight after birth helps the uterus to contract down to its pre-pregnancy size and encourages the delivery of the placenta. Your pēpi should be kept on your chest skin-to-skin for at least an hour, even if they have finished feeding.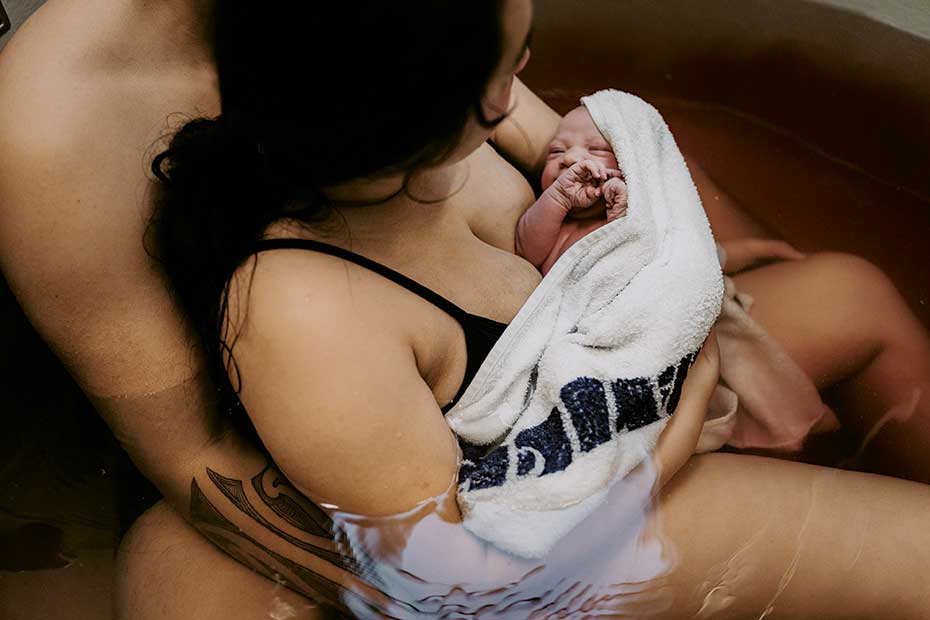 Breathing assistance
A small number of babies require help with their breathing after birth. If your baby is having difficulty breathing on their own, they will be given some assistance from the doctors or midwife. If possible, your pēpi will be kept on your chest for treatment, otherwise, they will be placed on the resuscitation trolley and given oxygen. They may also have their breathing pathway suctioned to remove any mucus or liquid from the lungs and clear their airway.
First check
After having skin-to-skin and your first breastfeed, your LMC will give your baby a routine newborn examination – it should only take a few minutes. They will be weighed, have their length and head circumference measured, and be checked over physically to look for any abnormalities or signs of health concerns.
Nappy changes
If you have older tamariki, you'll be familiar with nappy changes! But if this is your first pēpi, you need not be afraid; you'll get to be a pro at changing nappies in no time. A midwife can show you how to change your baby's nappy if you need some help.
Your baby's first poo is a greenish-black substance called meconium which is made up of everything they ingested while they were still inside you. It is quite tar-like in colour and consistency – imagine thick and sticky!
As your breastfeeding journey progresses, your baby's stools will transition to become more brown/green in colour, before looking like the typical breastfeeding poo.
A healthy breastfed baby's poo may look:
Mustard yellow
Soft
Watery in consistency
Seedy
Runny with small lumps
If you find that baby wipes aren't effective for cleaning up the meconium, try using a bit of baby oil on a wipe to remove the meconium from their skin more easily.
NICU ADMISSION OR SPECIAL CARE
If your baby is born premature, unwell, or develops a health condition, they may need to be admitted to the Neonatal Intensive Care Unit (NICU) for special care and additional monitoring. Even if you are prepared for the possibility of your baby being admitted to NICU, it can be a worrying experience seeing your baby taken away by doctors at the time when you want to cuddle and care for them most. We're lucky to have an incredible healthcare system in New Zealand with dedicated specialist doctors and nurses whose job is to look after the most unwell babies. If your baby is admitted to NICU, they will receive the best care possible.
The staff will ensure you are with your baby and able to hold them as soon as possible. They will help you to begin expressing to encourage your milk to come in and build a good supply. They will also encourage you to have skin-to-skin cuddles when your baby is able to and show you how to care for your baby during their time in NICU.
Remember: your pēpi needs your love just as much as they need help from the medical professionals.