Daycare, Kindy, Kōhanga, Home-Based, or a Nanny? Childcare Options in New Zealand Explained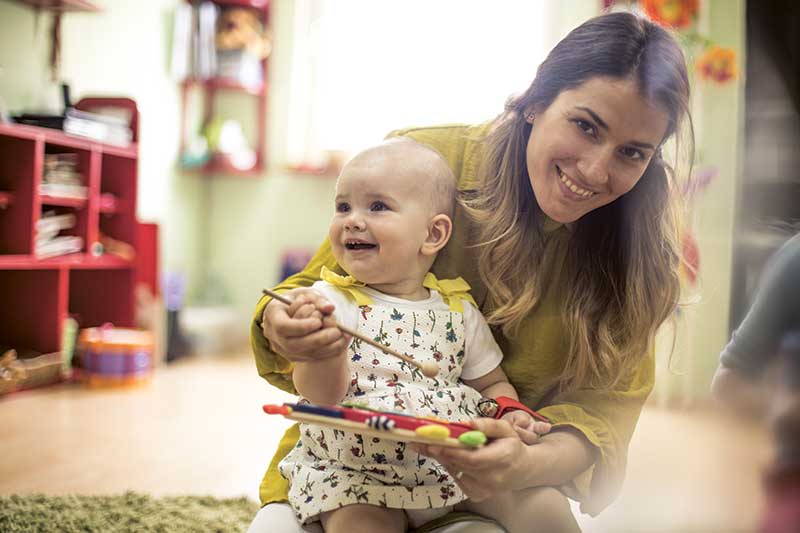 Are you returning to work or study? Do you need to have your pēpi looked after by someone outside of your whānau? Let's look at the options for early learning services.
There are all sorts of options for childcare in New Zealand and over 5000 services throughout the country. While it's great to have choices, it can often be overwhelming for a parent or caregiver to choose from. At first, it may be hard to know what service is best for you and your pēpi, but if you spend some time looking at what's available in your area, you can find the right fit for your whānau.
Here, we've outlined the different kinds, with a few key points that you might find useful. For further information about early childhood education (ECE) in Aotearoa, including how to gather information and ask questions about the services you're considering, visit parents.education.govt.nz.
The Childcare Subsidy is a payment that assists families with the cost of pre-school childcare. To see if you're eligible for the Childcare Subsidy or other payments, visit workandincome.govt.nz.
PARENT AND WHĀNAU-LED SERVICES
Overall: Low cost and allow you to learn alongside your child in a supportive and caring environment.
Playcentres around New Zealand are managed cooperatively by parents, with support from Playcentre Aotearoa. Playcentre is for the whole whānau: parents and caregivers play, learn and grow alongside their tamariki in the playcentre environment, allowing you or other members of your whānau to be involved in your child's ECE, while also creating your own community and friendships. The whānau of a child enrolled at Playcentre will also be required to take part in the Playcentre Education Programme to the level of completion as required by their Centre. Playcentre caters for children from birth to six years old and is free and subsidised by the New Zealand Ministry of Education. However, some centres may request a small fee per term or a donation.
Te Kōhanga Reo provides a te reo Māori immersion learning environment for tamariki and their whānau to foster their knowledge of the language and tikanga Māori (culture). Each centre is dependent on whānau involvement in terms of management, responsibility, and decision-making, and parents are encouraged to take part in the day-to-day programme to learn alongside their tamariki. Te Kōhanga Reo has a whānau contribution system, meaning payable costs can be different for each family and vary between centres.
TEACHER-LED SERVICES
Overall: Safe, sociable and secure environment in which children are cared for by educators, often with a moderate to high cost (depending on the service).
Education and care services such as daycares, crèches, preschools, and Montessori are centre-based services, run by a qualified and registered ECE teacher. Each centre is also staffed with supervising adults, 50% of whom must be qualified and registered as ECE teachers. Education and care services often cater for a wide range of ages, from birth to six years old and tend to provide separate spaces for different age groups. The sessions can vary from sessions of a few hours long to full days. You will usually need to pay fees for your child to attend an education and care service.
Kindergartens are usually for children aged 2-5 years. They employ fully qualified ECE teachers to help children to learn, interact and develop in the kindergarten environment. Each centre varies in its sessions with some offering shorter sessions in the mornings or afternoons, or full care during school hours (approximately 9am to 3pm). Most kindergartens are part of the government 20 hours ECE scheme, and parents may be asked to pay fees or make a donation.
Home-based care services are provided by educators, often in their own home, for groups of up to four children. The educator must belong to a chartered home-based care network organisation. Home-based care services tend to cater for a wide range of ages, from birth to six years old, and are usually able to offer hours of your choice, subject to availability. As part of their network, they will often facilitate playgroups with other home-based carers. You will usually need to pay fees for your child to attend a home-based care service.
CAREGIVER-LED SERVICES
Overall: A personal, primary carer for your child or children in their own home environment that often comes with a high cost.
Nannies tend to be professional carers with childcare credentials and qualifications who can give your child individual attention when caring for them. Nannies may be members of an organisation or agency and can sometimes offer flexibility of days and/or hours, subject to availability. Some may provide light housework or be available for a live-in job. The cost of a nanny tends to be the most expensive childcare option.
Au pairs travel from abroad to stay in New Zealand with a host family. They provide one-on-one care for the family's child or children in the home, usually for up to one year. Au pairs are paid a weekly wage, and their room and board is covered by the family they are hosted by. They often contribute to the running of the household and can be quite flexible with their hours.
Te Aho o Te Kura Pounamu is a distance learning school that offers a free, individualised early learning programme for children aged 2-6 years old, who can't attend another early learning service or Te Kōhanga Reo. The teachers work with parents and whānau to facilitate play activities and learning experiences for children through their online learning resources. To enquire about learning with Te Kura, visit their website tekura.school.nz or call 0800 65 99 88.