Why Is Delayed Cord Clamping So Beneficial?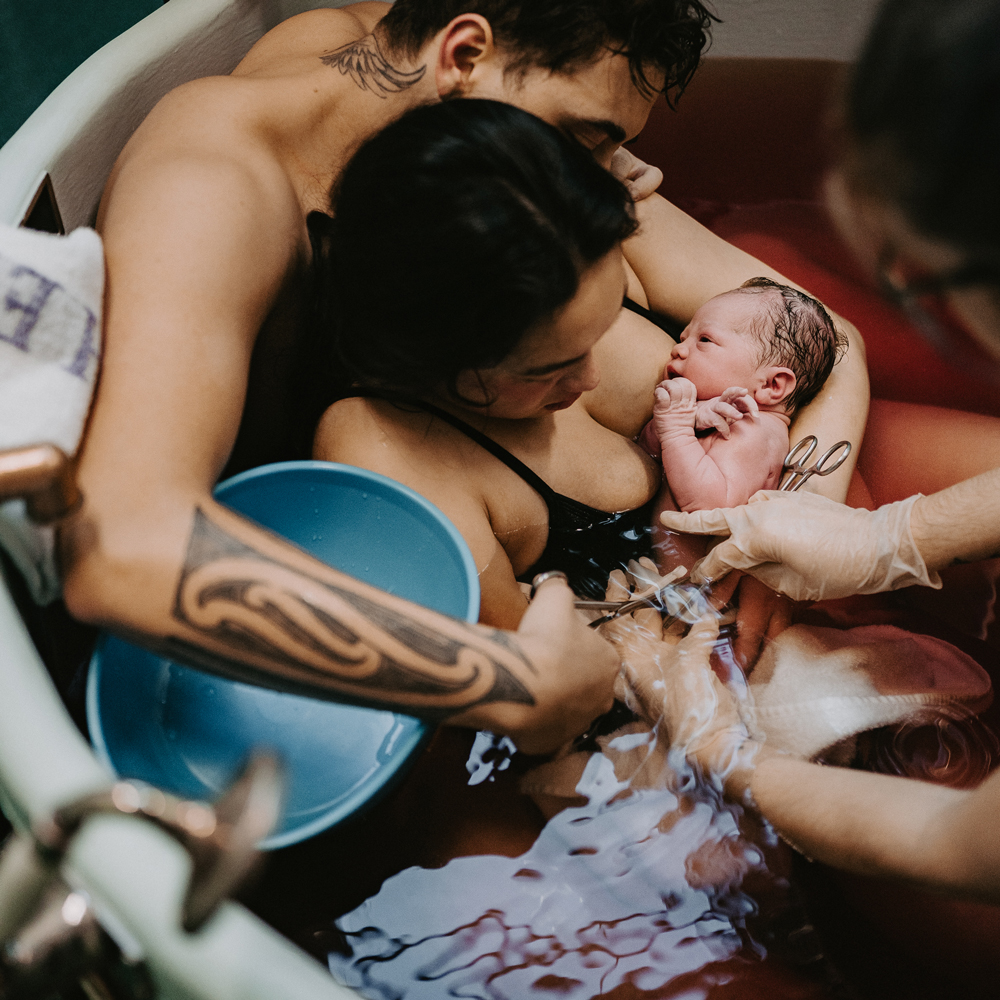 The World Health Organization (WHO) recommends delayed umbilical cord clamping (not earlier than one minute after birth) for improved maternity and infant health and nutrition outcomes.
WHAT IS DELAYED CORD CLAMPING?
During your pregnancy, the umbilical cord provides your baby with oxygen via the circulation of blood from the placenta. When your pēpi is born, they will still be attached to the placenta via the umbilical cord. For a few minutes following birth, it will continue to transfer blood from the placenta to your baby (this process is called placental transfusion).
Definitions of delayed cord clamping (DCC) vary amongst healthcare professionals, but essentially it is when the umbilical cord is clamped more than one minute after the baby is born, or when the cord has stopped pulsating. When pulsation ceases, the blood has stopped travelling from the placenta to the baby's body. The New Zealand College of Midwives states that "evidence supports delayed cord clamping (waiting 3 minutes) in newborns."
"Early" or "immediate" cord clamping occurs in the first 60 seconds after birth, usually within the first 15-30 seconds.
WHAT ARE THE BENEFITS?
DCC offers higher – and adequate – blood volume to a baby, increasing their haemoglobin levels at birth.
Research shows that infants who have delayed cord clamping have significantly greater ferritin (iron stores) levels and myelin content at 4 months, which is associated with improved brain development.
The Australian Placental Transfusion Study (APTS) found that DCC of 60 seconds can dramatically improve a baby's chances of survival when born prematurely (before 37 weeks gestation).
For preterm infants, delayed cord clamping can increase haemoglobin levels at 10 weeks of age. It can also improve transitional neonatal circulation, increase red blood cell flow, decrease the need for blood transfusions for anaemia or low blood pressure, and lower the incidence of necrotising enterocolitis (NEC) which is a disease seen predominantly in premature babies.
WHEN IS IT NOT POSSIBLE OR RECOMMENDED?
The World Health Organization's (WHO) recommendation is that "early umbilical cord clamping (less than 1 min after birth) is not recommended unless the neonate is asphyxiated and needs to be moved immediately for resuscitation." They also state that "when newly born term or preterm babies require positive-pressure ventilation, the cord should be clamped and cut to allow effective ventilation to be performed."
Even if you are having a caesarean birth, DCC of at least 60 seconds is standard practice in most hospitals in Aotearoa when circumstances allow.
CAN I COLLECT MY BABY'S CORD BLOOD FOR BANKING AND ALSO PRACTISE DCC?
Delayed cord clamping is, by definition, when the cord is clamped after 60 seconds. After which time, the volume and number of stem cells collected for the purpose of cord blood banking may be insufficient for possible use or treatment in the future. You can read the New Zealand College of Midwives' consensus statement on umbilical cord blood banking here.