How to Build Your Maternity Activewear Wardrobe for Pregnancy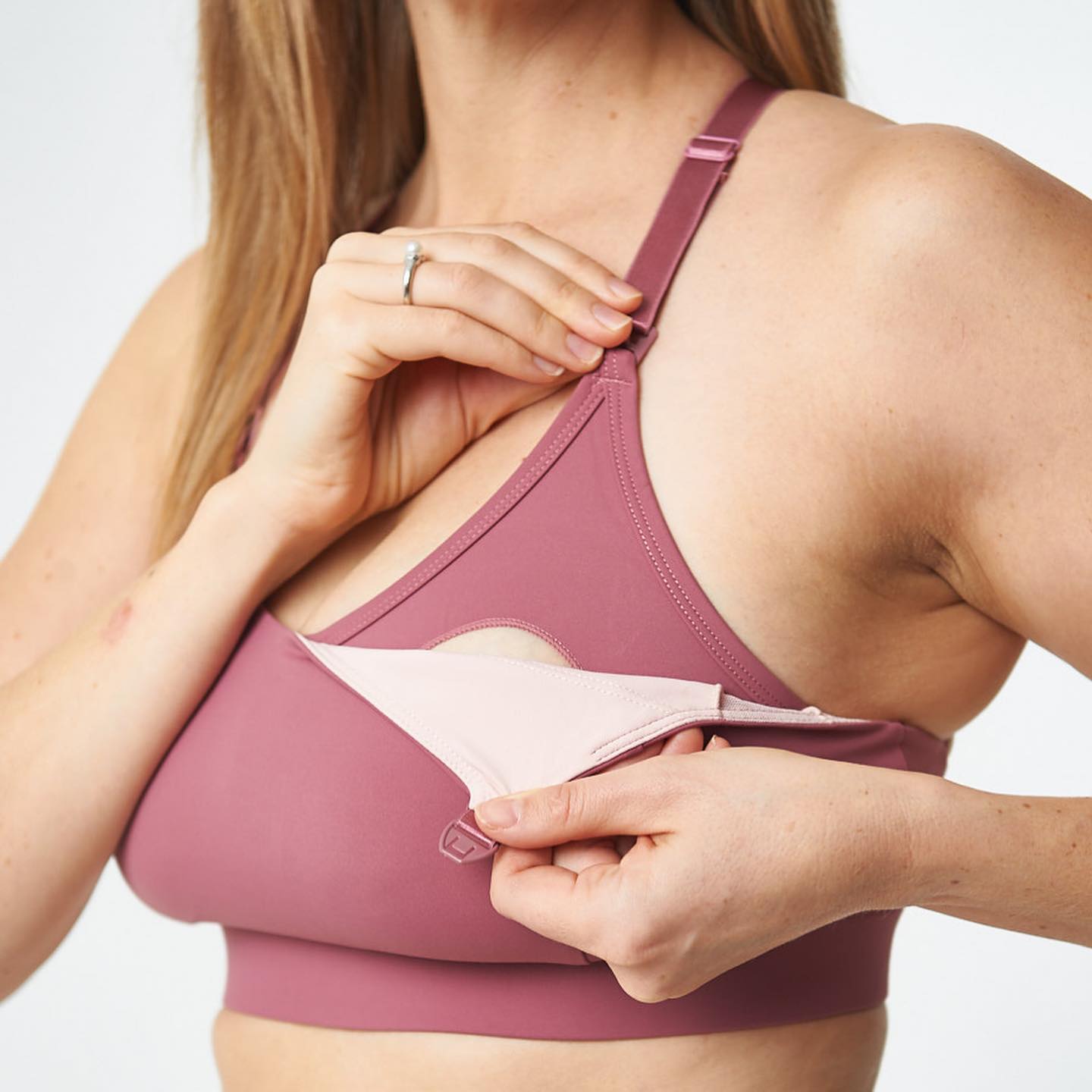 This article is proudly sponsored by Go Mama.
Keeping active during pregnancy is beneficial for both your physical and mental health, and provided it is completed safely and you have been given clearance by your LMC, there is no reason to stop being active during this time. During pregnancy, wearing comfortable and supportive maternity activewear is important when exercising. Here, we look at some key pieces that are perfect for your wardrobe to support an active pregnancy:
Leggings or shorts
We're talking tights, running shorts, bike shorts… whatever you feel most comfortable getting active in. There's no need to forgo your normal activewear attire entirely, but you also want to feel unrestricted in movement and comfortable in clothes that don't require constant adjustment.
High waistband. An extra-high waistband provides full coverage and support around your bump. It can also act as a light compression to help improve some aches or discomfort and wont 'dig in' like a normal waistband might.
Non-transparent fabric. Your pants will probably stretch a little more than usual so you want to have the confidence to wear them without worrying that they're see-through.
Pockets. A mum essential, pockets are one of those features you didn't know you needed until you had them. They have become a game-changer in activewear; more recently, leggings and shorts have been designed with discreet pockets on each leg that are the perfect size for a phone, keys and cards so you're able to leave the house hands-free.
Looser styles such as harem pants, lounge pants or light joggers are also ideal for lighter exercise and are suitable for those who prefer less compression or coverage on their stomach. The waistbands generally sit below the bump which still offers some support underneath.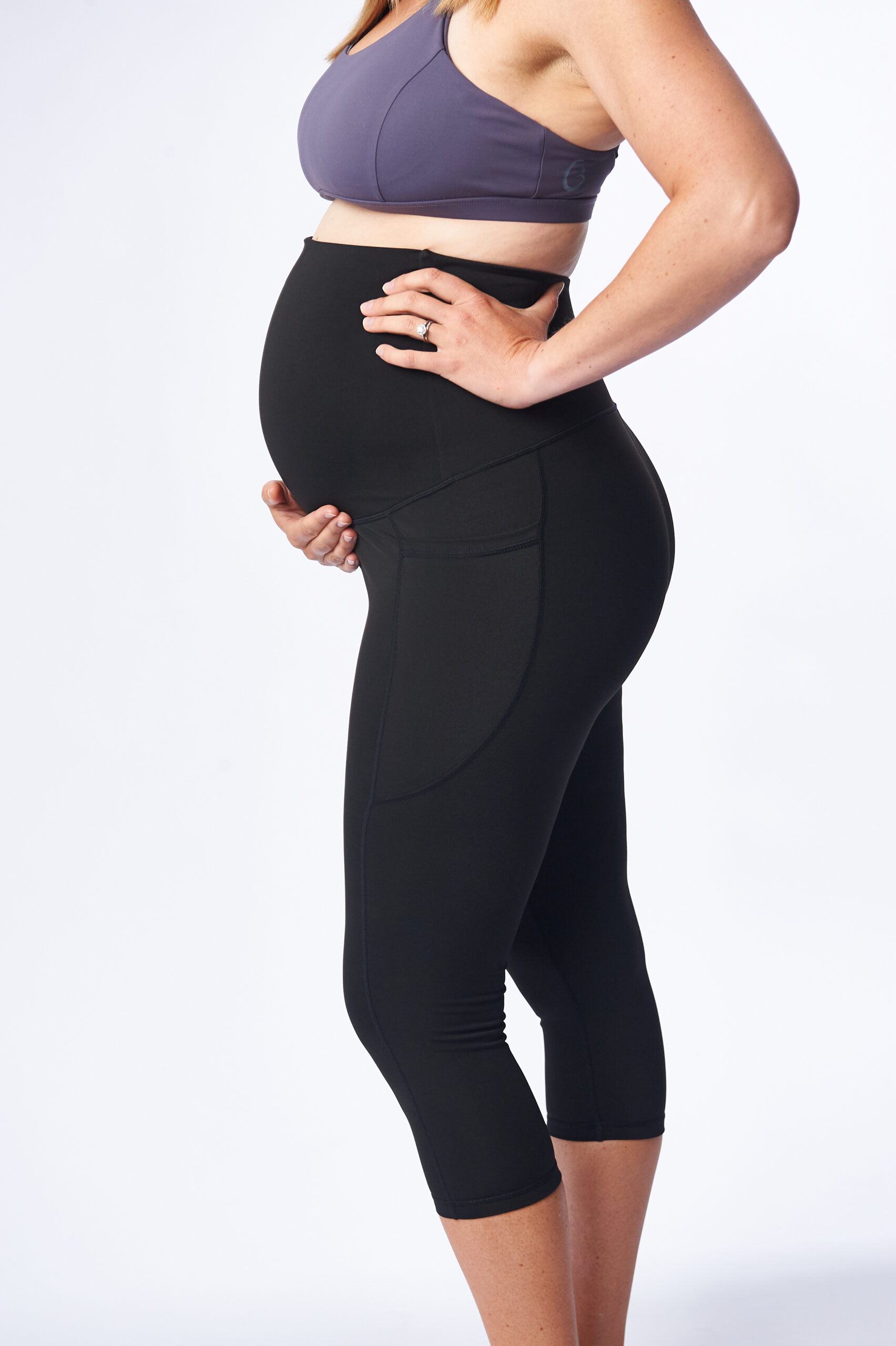 Go Mama Ultra Capri Leggings, 
$59.99.
Sports bras and crops
Your stomach probably isn't going to be the only part of your body changing shape during pregnancy. Breasts also tend to fluctuate in size as your milk production begins while pregnant, when your milk comes in postpartum, and then they tend to settle again once feeding is established. Finding a comfortable bra to carry you through these changes is key.
Avoid firm underwire. As your pregnancy progresses, you may find it more uncomfortable to wear a rigid bra, so a sports bra or crop that has no underwire is recommended.
Adjustable band and straps. To accommodate your changes in size and shape, look for bras that can be adjusted in different areas. Having multiple hook settings at the back of the under-bust band ensures the perfect fit as your ribs expand and contract. Adjustable straps over the shoulders can also assist with increasing support and relaxing tension during periods of growth. Adjustability can also reduce the likelihood of having to buy multiple bras in different sizes.
If you are shopping for a bra or crop for pregnancy, you may want to consider one that is a maternity bra with nursing clips attached. This will reduce the likelihood of having to purchase additional breastfeeding bras after your baby is here.
Active tops
Some tops are specifically designed for pregnancy, meaning you don't have to size up to get a top that fits in all the right places. Here are some other tips for finding the perfect tops to wear when exercising during pregnancy:
Fabrics. Choose fabrics that are soft and have plenty of stretch.
Length. If you're looking for full bump coverage, consider tops that have additional length.
Lightweight and breathable. It's likely your body temperature will already be slightly higher during pregnancy, so look for tops that keep you cool during activity to avoid overheating.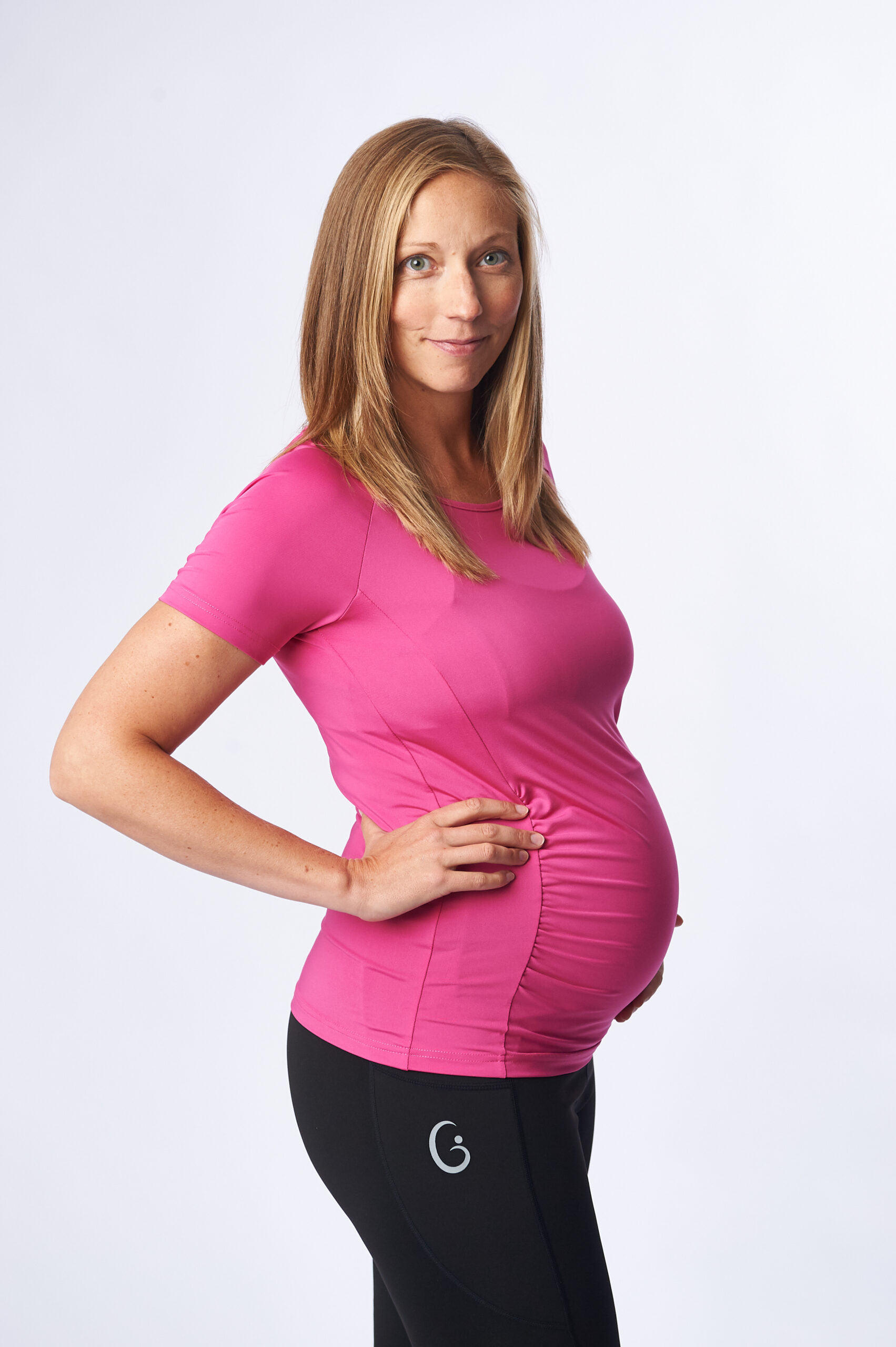 Go Mama Creation Tee in Fuchsia
, $34.99.
Swimwear
Swimming is considered a safe, low-impact activity throughout pregnancy, and is particularly enjoyable in the later stages to relieve some of the aches and pressure on joints when buoyant. A supportive and comfortable pair of maternity togs is a must-have if you plan on heading to the pool or beach.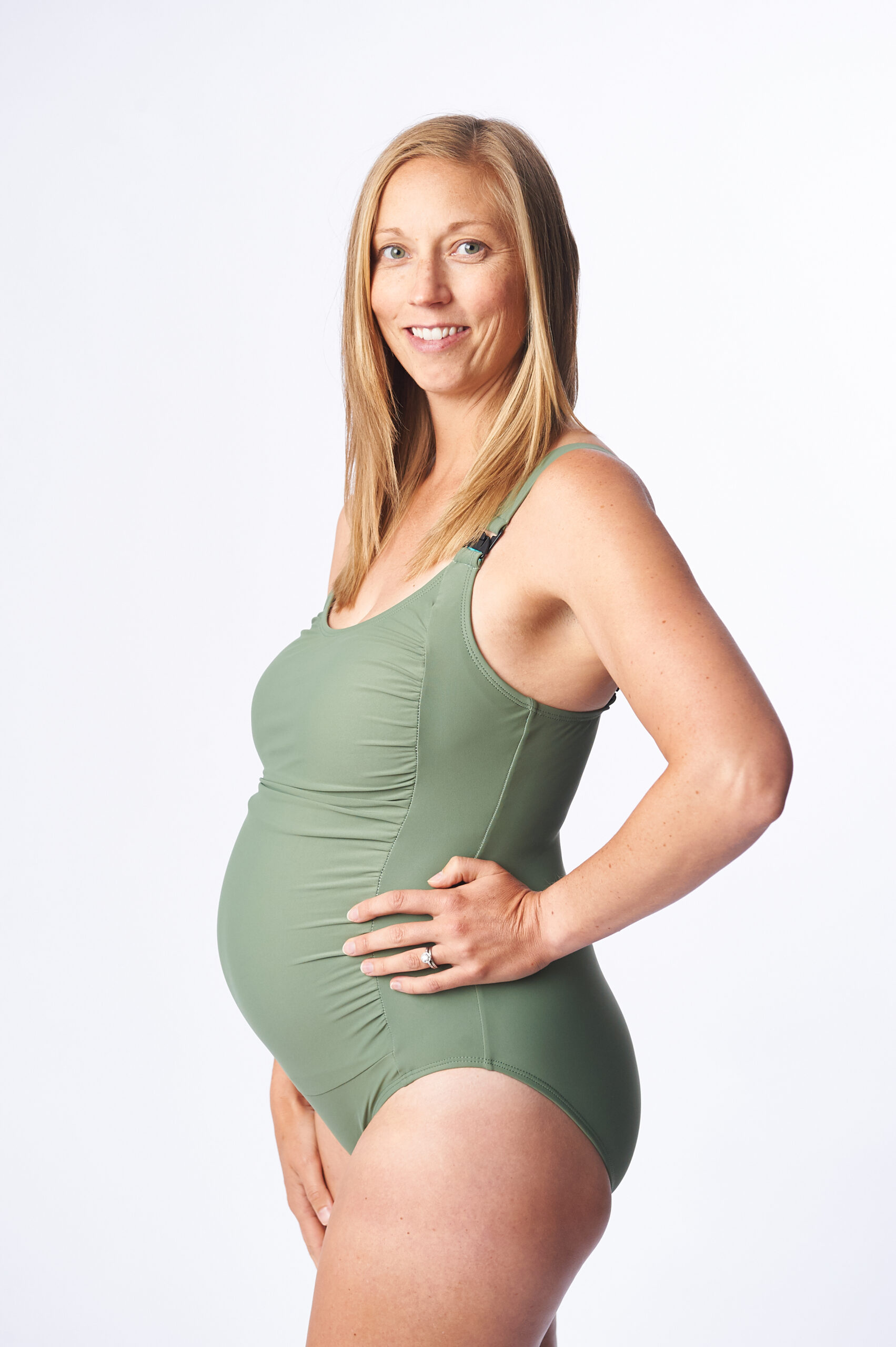 Go Mama Manaia One Piece Swimsuit in Khaki Green, 
$59.99.
Shoes
Make sure you have a comfortable pair of shoes. Feet can swell during pregnancy so a well-fitted pair should carry you through pregnancy with comfort and support.
Many maternity brands design their clothes to be worn during both pregnancy and postpartum, so you're not only investing in your comfort during pregnancy, these pieces will continue to be wardrobe staples that support you throughout your active motherhood journey. Go Mama offers maternity activewear and accessories that are functional, comfortable, supportive and affordable for pregnant and breastfeeding women. All of their pieces are designed in New Zealand and you can shop the range at gomamamaternity.co.nz.