Two Sisters' Beautiful Story of Egg Donation: Part One with Mum-of-Two and Donor Egg Recipient, Jan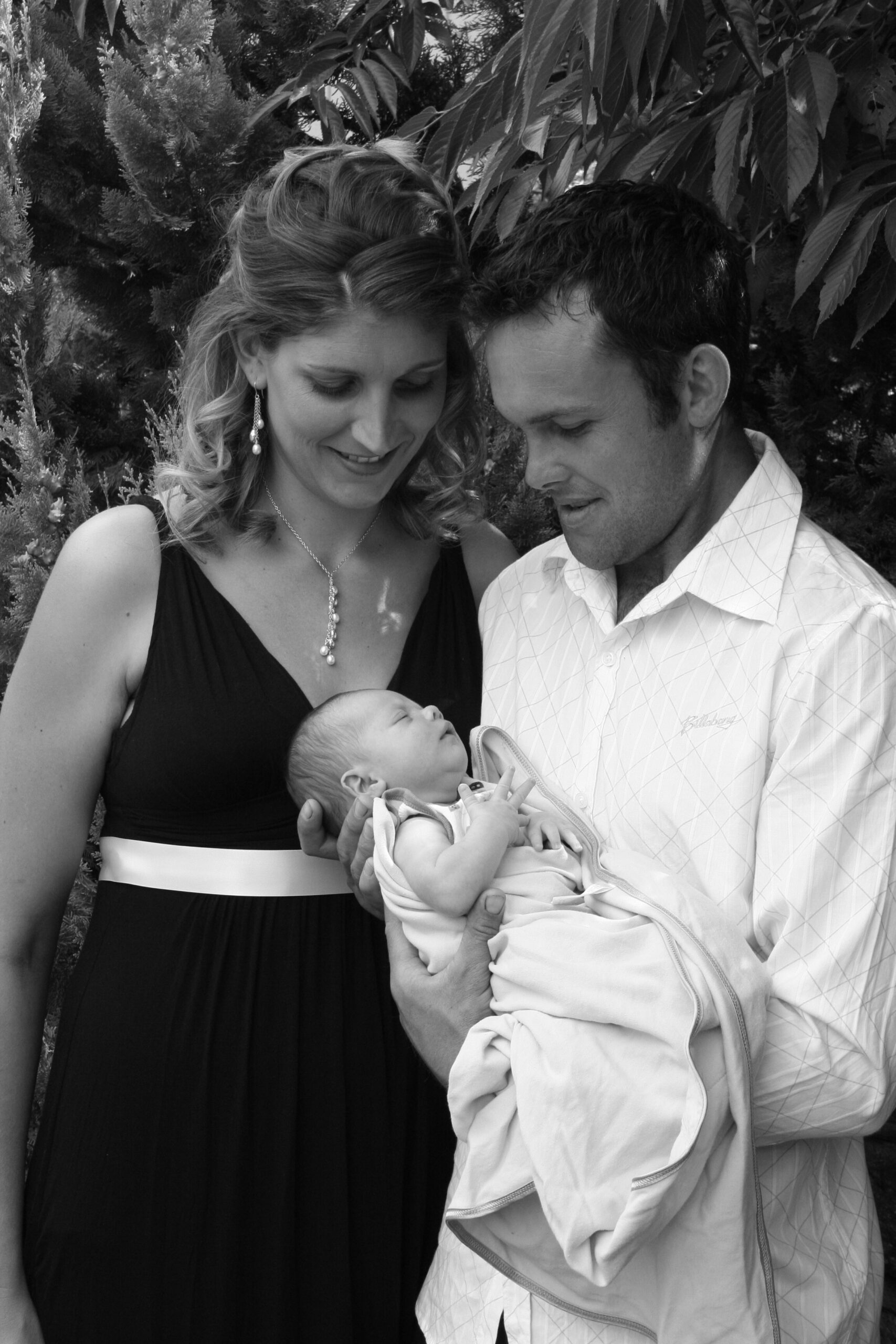 They say it starts with an egg but what happens when you can't produce your own? When Jan Whittaker discovered as a teenager that she had a condition where her ovaries were unable to ovulate, egg donation was always going to be the path she needed to take in order to have children. Here she speaks with us about the loneliness of her diagnosis, the process of having her sister as her egg donor, experiencing IVF and pregnancy, and the open and honest conversations she and her husband have been set on having with their two boys about their journey into the world.
Hi Jan. Can you start by introducing yourself? Tell us where you live and who's in your family.
Hi, my name is Jan Whittaker and I married my husband Darryl 14 years ago, we have two boys, Lakin who is 12 and Joel who is 10. We are dairy farmers in Kaikohe, Northland. I grew up in Ōkaihau on a sheep and beef farm with my parents and three older sisters. I'm extremely close with my sisters; there is only six years between the four of us.
When you were a teenager you discovered you were born with ovaries that were smaller than they should be. How did you come to receive that diagnosis and how did you feel when you learned of it at the time?
When I was a teenager I didn't get my period, all my sisters were 12 when they got theirs so by the time I was 15 I was obviously very worried about why. I went to the doctors which then led to seeing a gynaecologist and I started the long process of blood tests and trialling medications. Two years later – a month after my 17th birthday – I had explorative surgery. This is when they found that my ovaries were a third of the size they should be but everything else was normal. This meant that that my body didn't produce any eggs and wouldn't in the future so would mean I wouldn't be able to have children. I was devastated and confused, at 17 I wasn't even close to thinking about wanting to have children. I felt very alone, all my sisters had left home and I didn't feel that my parents could understand as they had children. I didn't feel my friends would understand either; they were in the place in their lives where they were trying not to get pregnant. So I didn't feel like I really had anyone to talk to about it and bottled it up for a long time. My outlet ended up as me writing it all down in letters to my sisters – there wasn't email back then.
You went on to marry your now husband, Darryl. At what stage did you both feel ready to have a baby and what were the first steps in embarking on that conception process?
Darryl and I had been together for five and a half years before we got married so we were ready to start a family as soon as we got married, we felt it was the next natural step. We also knew it could potentially take a while so we wanted to get started as soon as we could.  I did feel very lucky that we knew what our journey was going to look like and that Darryl was well aware of what he was getting into before we got married.  The first step was getting in contact with the fertility specialists, we ended up with Fertility PLUS. We met with them and went through what the process entailed.
Your sisters all offered to donate their eggs to you when the time came. What legalities, if any, are there to consider with egg donation, especially from family members?
My sisters are all super amazing, none of them even hesitated to offer to help me. From the moment I found out that was what it would take for me to have a family, they all volunteered without even asking what it would involve for them; they just knew they would do anything I needed to make it possible to have a family if that was what I wanted.
The main thing is that the law recognises the woman who receives the egg and gives birth to be the legal mother of the child, so the donor has no rights or liabilities, that doesn't change whether it is a family member or not.
What are the benefits and challenges of having a known donor?
I think the major benefit for me having my sister as my donor is having my genes in my children, knowing their medical history and knowing that they might just look a little like me after all. I haven't found any challenges so far but I did worry in the beginning about how I might feel – would I feel jealously towards my sister if my children felt a strong connection with her? And about how it might affect my children emotionally – would they have a problem with it? But to be honest, my children love their Aunty Karen and so they should, she is a fantastic aunty who adores them and all her other nieces and nephews. It doesn't bother me; we are a close family. My children have grown up knowing Aunty Karen donated her eggs and as they have grown so has their understanding. So, it has gone from "Aunty Karen is a chicken" and "Aunty Karen would have had five children if she hadn't given mum two of her eggs" to now thinking it's super cool to have a half-sister and two half-brothers. I'm sure there are more steps along the journey still to come.
Did you ever have any hesitations or concerns about having one of your sisters as your egg donor?
Yes, I was a little scared in the beginning. Would it be weird that they would see their biological child growing up in front of them? Would that be strange for me? But to be honest, the benefits outweighed all of that. It is extremely hard to find donors, it's not actually like you have lots of choices. I am so lucky I had three wonderful, giving, generous sisters willing to help me when there are people out there who don't have that.
What are the ethics around egg donation and how did those factors impact on which of your sisters could be a donor for you?
The major factors on the egg donation were around age and timing. The doctors really would have preferred for the girls to have finished having had their families, and the optimum age for egg donation is between 20-36. Helen was pregnant with her second child so she couldn't do it and Toni hadn't started her family at all. That made Karen the best candidate as she had proven fertility as she had one child and was only 30.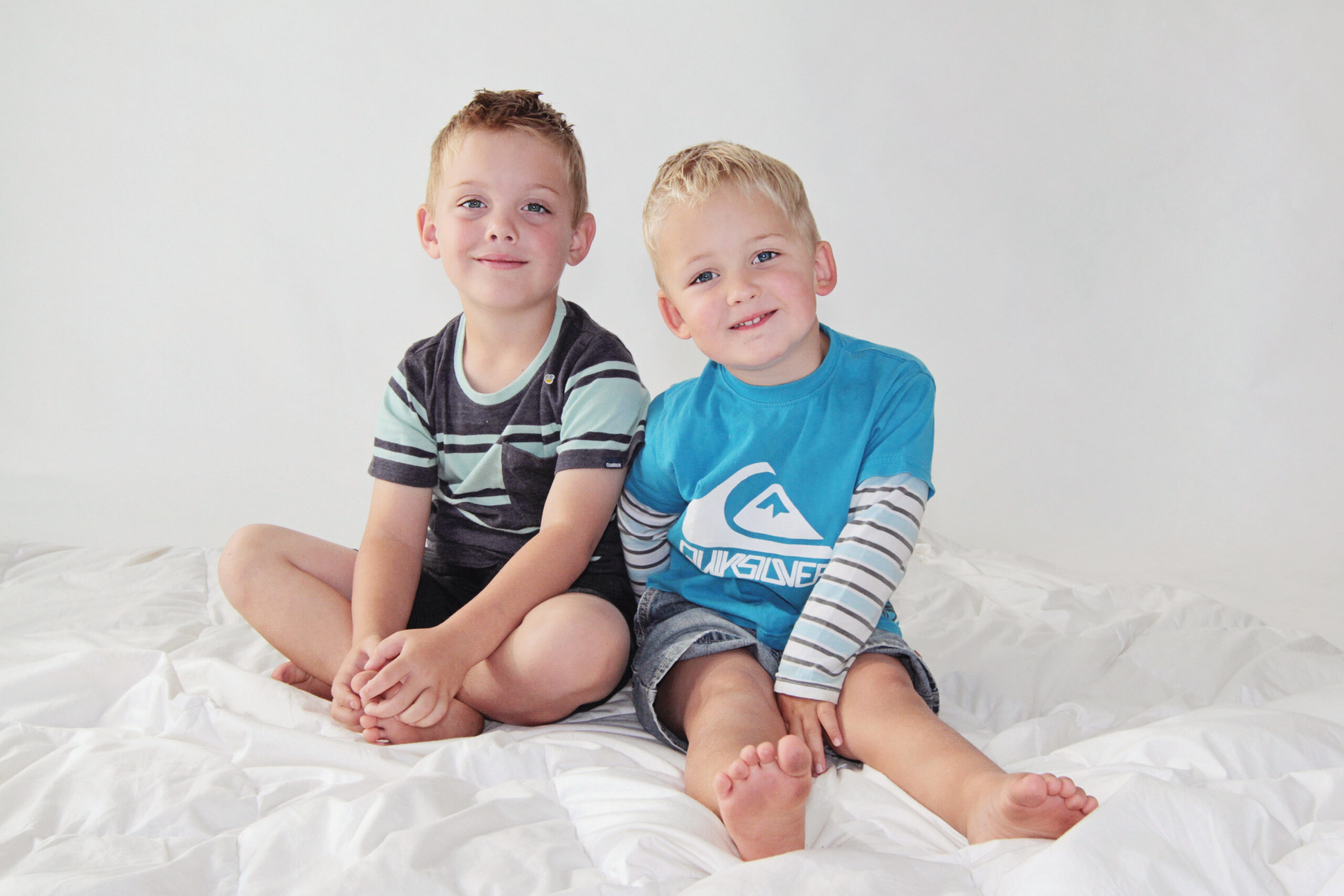 Once Karen was selected as the donor, what was the process to pregnancy from there?
All four of us (myself, Daryl, Karen, and her husband, Jonnie) had to meet for counselling first to make sure we all understood and were happy to proceed. Then Karen started her blood tests and the egg donation process, while I started the process of getting my uterus ready for implantation of the embryo. And Darryl wanted to make sure I mentioned his very important part – his visit to Fertility PLUS once everything was all go!
How did you feel emotionally during your pregnancies?
I loved being pregnant, I was growing a little person inside of me. I didn't have uneventful pregnancies but I was lucky in the fact that I felt well throughout the pregnancies. I ended up bleeding at 32 weeks when I was pregnant with Lakin and spent the next three weeks in and out of hospital trying to keep him inside me for as long as possible. He ended up arriving early at 35 weeks but was a good weight and healthy so I got to take him home after four days.
With Joel, it was the opposite. He was our last embryo and I started bleeding so we thought the transfer hadn't worked, I had a blood test and it came back negative so we thought we weren't pregnant. My other sister, Helen – who was planning on moving to Singapore in four months – very quickly started getting ready to go through the egg donation process to try to complete it before she left. She'd had her first round of blood tests when we found out that I was actually pregnant and thankfully had no other issues through the pregnancy.
I think I felt the same as any mother would feel.
So your second son, Joel was also conceived from an egg that was donated from Karen.
Yes, we were lucky that when Karen donated her eggs we got five viable embryos, Lakin was number two and Joel was number five, lucky last.
What approach have you and Daryl taken in explaining your journey to parenthood to your boys? Has it presented any challenges that you've had to navigate with them?
Our children have known from the beginning about how they were made before they could even comprehend what it all means. We talked about it openly in the family, we read them a book that was recommended called Sometimes It Takes Three to Make a Baby. I always thought it would help that it was part of their lives, not something that was thrown at them when they were older. It's how we are, maybe a little different but perfect just the way we are.
For those who are considering using an egg donor, what advice do you have for them? Where can they find more information or seek support?
It's definitely an option you should look into if you are having trouble conceiving. I know it's not how you probably dreamed you would have your family but families are made in all ways, shapes and sizes these days. I count myself lucky I still got to carry and grow a baby inside me; it might not be from my egg but I don't care, that's just a little minuscule thing that you can't even see. I have two beautiful boys who love me unconditionally, that I will cherish for the rest of my life. I would like to thank my beautiful sister for giving them to me and my wonderful husband who helped me through it all as well.
Fertility Associates and Fertility PLUS are the experts, they have all the information about donors. They have counsellors and nurses, they were a huge support.
Read part two with Jan's sister, egg donor and mum-of-three, Karen

here

.