Māmā Muse: Julia Matthews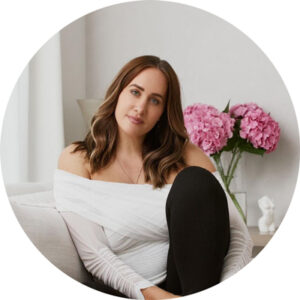 We spoke to Julia Matthews, mum-of-one (with twins on the way) and founder of health and wellness brand, Two Islands, about the journey to pregnancy, her positive c-section experience, and how she approaches life as a career māmā.
Kia ora Julia. Can you introduce yourself? Tell us a little bit about who's in your whānau, what you do for work, and where you live?
I live in Auckland with my partner Cam, my son Lenny, our boxer dog, Penelope and we have two more babies on the way! I am the owner of Two Islands, a modern wellness brand with a focus on women's health and beauty.
You froze your eggs prior to having your son, Lenny. Tell us about your journey to pregnancy with him. Did you plan to conceive when you did?
Lenny was unplanned but a very welcomed pregnancy. I always knew I wanted children so while it was a surprise to find out I was pregnant it was also a sigh of relief as I thought I would have to use the eggs I froze to start a family.
How did you feel emotionally and physically during your pregnancy? What did you love and what did you find most challenging about being pregnant?
Very neutral – I wasn't excited and jumping for joy but also not not excited, if that makes sense? I didn't read any books or ask too many questions so my expectations were low in terms of whatever happens happens – just roll with it. I loved being able to wear tight clothes and not have to suck in. I did not enjoy the first trimester nausea and insane tiredness.
Congratulations on the news that you're expecting twins! How did you feel when you found out you were having two? How have you been feeling in this pregnancy so far?
Thank you! I thought I'd had a miscarriage but a week later still felt extremely sick so my doctor sent me away for bloods and a scan and at the scan it showed two babies. So I went from thinking I had one to none and then two. It was a huge shock that brought up a lot of fear and anxiety. For about a week it was very hard for me to see any positives which sounds awful, I wasn't in a good headspace. My best friend has twins and watching them grow up was pretty incredible so I did a lot of talking with Anna which helped to put my mind at ease and now I'm really excited, especially knowing it is two girls. The first trimester was rough but I'm out the other side now and feeling really good.
View this post on Instagram
You had an elective c-section with Lenny. How was that experience for you and what preferences did you advocate for in your birth?
A very positive experience! As I chose an elective c-section (he was a big baby!) and went through midwifery care for my pregnancy, I only met the surgeon for the first time when walking into the operating theatre but he quickly put my mind at ease. Everyone in theatre was friendly and kind. I told my midwife I would like skin-to-skin straight after birth, to be able to watch Lenny being born, and have delayed cord clamping, and I used a muka tie. As Lenny was born with a broken arm, the skin-to-skin didn't happen as he was rushed off for an x-ray – apart from that I would do it all again in a heartbeat.
How was the fourth trimester for you? How did you find the adjustment to motherhood emotionally and mentally?
Such a blur! The first few weeks of Lenny's life we had visitors non-stop which I loved, it helped me forget about how tired I was. I went back to work in a limited capacity a week after his birth as at the time Two Islands was a small team and I felt duty to my staff to be there for them and support them (even though they were more than capable!). Lenny slept a lot so it was not hard for me to get my laptop out and do some work. It helped me keep a familiar routine which was key for my mental health. My partner works from home so I had non stop support and a helping hand which made the transition easier than I imagined.
View this post on Instagram
At Soteria, we love all of your Two Islands products! Tell us how the business came to be and what the ethos of the brand is.
Thank you! I found the supplement category very cluttered, confusing and full of empty promises so set out to change that. Creating products with easy-to-read ingredients lists, ample information on the website about the products and ingredients, and of course products that are effective and do what they say they will is key!
What are your top three TI products for a pregnant or postpartum māmā and why?
Milk Maker for sure to help boost supply, if that is something you would like support with when/if breastfeeding.
Protein Super Blend, a new product from Two Islands which is basically a supercharged protein-shake-meets-multivitamin. The product contains ingredients that help nourish you and baby during pregnancy and postpartum such as iodine, iron and folate. It's your one-stop-shop for daily nutritional support.
Marine Collagen to help with wound healing, postpartum hair loss and to give mamas extra skin hydration. Marine Collagen is protein so a great addition to a smoothie or coffee for an extra protein boost.
How do you juggle running your business with motherhood? How has your outlook on work changed or evolved since having Lenny?
I am so lucky to have a very supportive partner who works from home and looks after Lenny on the days he isn't at daycare to help with the juggle. Without Cam I wouldn't be able to work as much as I do so I'm super grateful for him. My outlook on work hasn't changed since having Lenny, I've always been very driven and absolutely love what I do for work; it's never been a chore, it fills my cup going to the office each day, being with my team and making magic. I'm unsure how I will go when two more babies arrive later this year so am putting no pressure on myself in regards to work and will take all the time I need.
Does mum guilt come up for you as a working māmā?
No, never. I make Lenny breakfast each morning and we hang out a bit. Then at night Cam cooks dinner and I do bath and bed routine. On the weekends I keep my schedule Lenny-focused so I can spend as much time with him as possible which I love to do – he's nearly 2, its such a fun age.
View this post on Instagram
What does self-care look like for you now that you're a māmā?
Child-free nights out with girlfriends where we have adult conversations and can eat our meals in peace. Heaven!
What has motherhood taught you?
Patience!
Tell us about a māmā who is your muse.
All of my girlfriends are just incredible – the stay-at-home mamas and the full-time working mamas. It's non-stop with a child or children, no matter what your schedule looks like, and they all do it with a smile on their face even when the times are tough.