How to Help Older Children Adjust to Having a Baby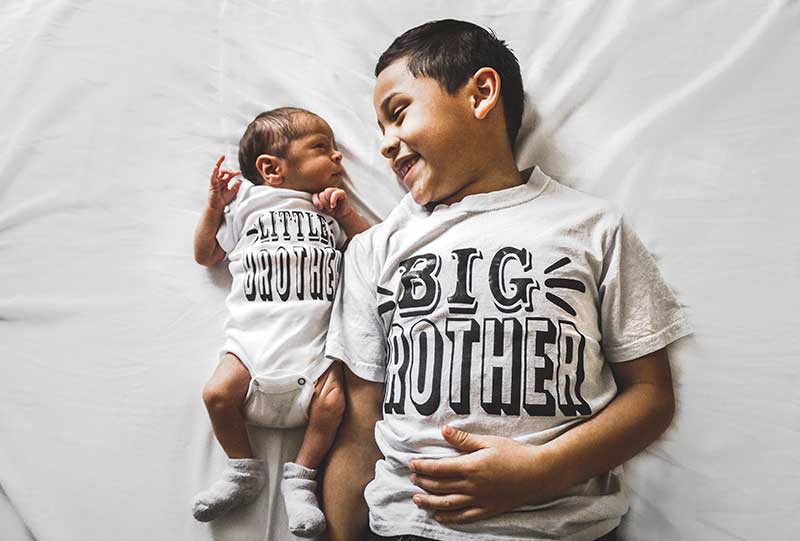 How to navigate having a new pēpi with older tamariki.
PLAN THE FIRST MEETING
Connect with your older child or children first. Give them an enthusiastic greeting and plenty of cuddles before introducing them to the baby. If you've given birth at the hospital or a birthing centre (and it isn't too stressful for you) it might be nice to have your children meet there, so you can all ride home together as a family.
TRY TO TEACH THEM RATHER THAN TELL THEM OFF
Instead of constantly saying 'no' and 'don't' when protecting the baby, take time to demonstrate how to hold the baby correctly and explain why they need to be gentle. Be sure to give plenty of positive praise when they do well!
SPEND ONE-ON-ONE TIME
Having more than one child can be incredibly busy and at times a little chaotic, but if you can make the effort to spend one-on-one time with your older tamariki it will be good for both of you. If your children aren't napping at the same time, use the baby's nap to engage in whatever your older one wants to do and give them your undivided attention.
ACKNOWLEDGE THEIR FEELINGS
Your older one may be feeling jealous of their new sibling's arrival – be empathetic by validating their feelings. Know that it's understandable for them to feel this way but that it will pass.
ACCEPT THAT IT'S NORMAL TO SEE A CHANGE IN BEHAVIOUR
This may be the first time your older child has consistently had to learn to wait and to share which can be challenging for them. With plenty of love, affection, and calmness from you, behavioural changes like tantrums and sleep regressions will ease and things will return to normal.
GET THEM INVOLVED
Many older children like to help so including them in nappy changes and bath time can make for lovely bonding opportunities. You may like to encourage them to put the baby's socks on, hand you wipes, or entertain the baby during tummy time. Having your older child take part in these sorts of parenting duties can help them feel empowered.
PRESENTS
Some parents like to have their older child or children give their new sibling a welcome present or card and have the baby gift them something small in return. It's up to you to determine whether you think that is a good idea for your family and your tamariki.
Your love hasn't split; it has grown. It's normal to feel guilty at times or worry that you're depriving your older child of the love you gave before but it's important to know that giving them a sibling is a beautiful gift.