What Is a 'Gentle' C-Section Exactly?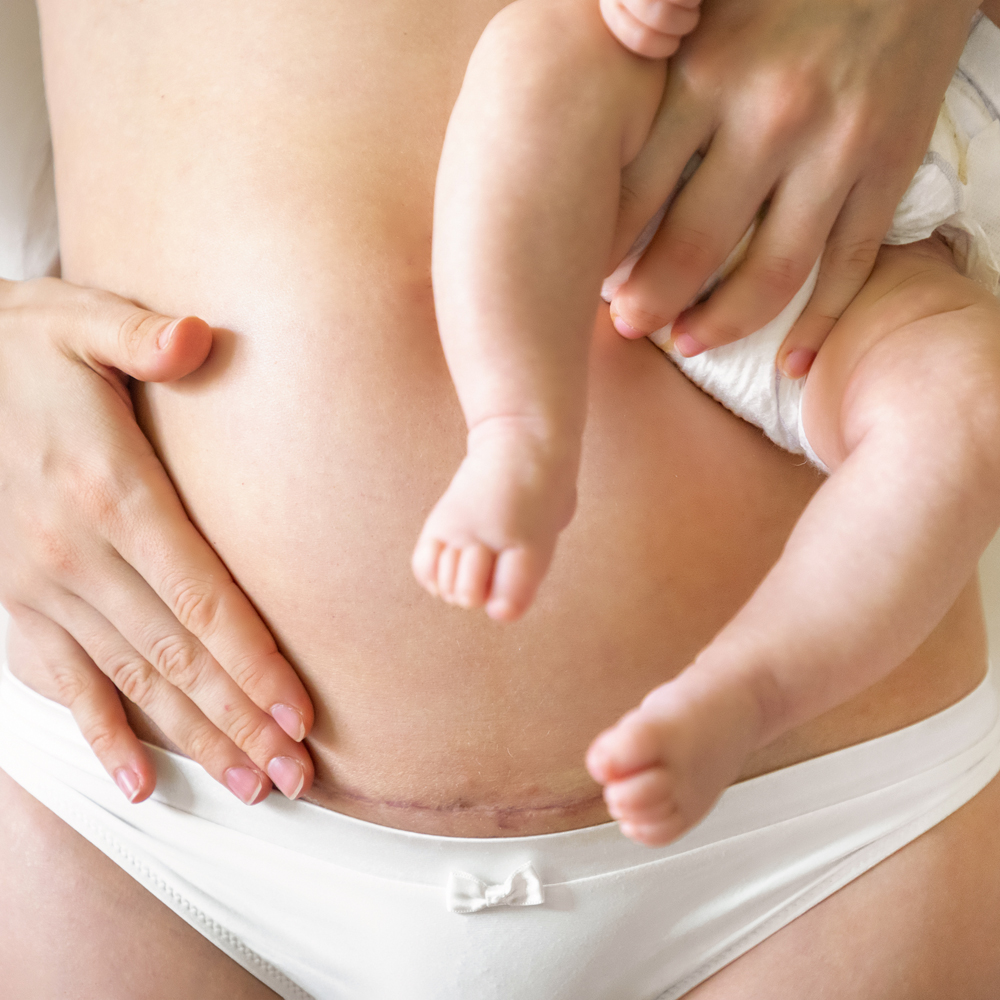 Would you like your caesarean to feel less clinical and have more elements of a vaginal birth? Read on to learn about gentle c-sections.
Whether you're having an elective (planned) caesarean or are simply wanting to get ready in case of needing an emergency c-section, a significant part of feeling empowered in any birth is being informed about your choices. Being prepared for all scenarios is always a great idea!
We've extensively covered the birth preferences you might like to consider for a c-section, but here we're diving into the relatively new but increasingly popular concept of a 'gentle' c-section.
SO, WHAT IS IT?
First of all, it's important to know that a gentle caesarean is still surgery and a major abdominal operation at that! But what it does involve is more elements of a vaginal birth than what is undertaken in a traditional c-section. Think of it as the experience of surgery, just improved; it's more personal and it's an opportunity for the birthing person to take an active, rather than a passive role in their birth.
THE ELEMENTS OF A GENTLE C-SECTION
Playing music of your choice and having dimmed lights to create a more birth-like environment.
Monitoring equipment is positioned on the side or back, so your chest can be clear for immediate skin-to-skin once the baby is born.
Wearing a gown that can easily be adjusted to allow the baby to have skin-to-skin contact right away.
IV lines are placed in your non-dominant arm for freer movement after birth.
Opt for clear or peek-a-boo drapes during the surgery to observe your baby being born.
Lifting your baby out with the help of the obstetrician, like you are delivering the baby yourself, or having the baby being born more slowly.
Delaying routine newborn assessments to allow for the 'golden hour' of skin-to-skin and establishing breastfeeding.
It's important to keep in mind that some elements of a gentle c-section may not be the 'norm' for your hospital. It may not be possible to incorporate these things in an unplanned or emergency c-section either. However, you can always ask!
ADVICE FOR TALKING ABOUT A GENTLE C-SECTION WITH YOUR LMC
While the notion of gentle c-sections is gaining momentum in the birthing world, most hospitals and obstetricians still practise the more clinical, traditional caesarean. The hope is that eventually gentle c-sections will become the norm as many birthing people report having a higher satisfaction with their birth after a gentle caesarean, but some healthcare professionals simply aren't familiar with the concept yet.
While they might not be commonplace right now, if you feel strongly about having these preferences fulfilled in your birth, you should certainly discuss your wishes with your team. This way you can form a birth plan that you and your maternity team are comfortable with, and have the c-section you envision.
Here are some questions you might like to ask:
Are you familiar with gentle c-sections? Have you performed any before? What elements were incorporated?
In what circumstances might my preferences or wishes not be possible? Why/why not?
What are the specific hospital policies that mean my birth plan cannot be achieved? Who can I contact for clarification on why these policies are in place and to discuss making an exception?
April is International Cesarean Awareness month, a time to raise awareness about c-sections, reduce preventable caesareans through education, support cesarean recovery, and advocate for VBAC. Learn more about c-sections

here

.