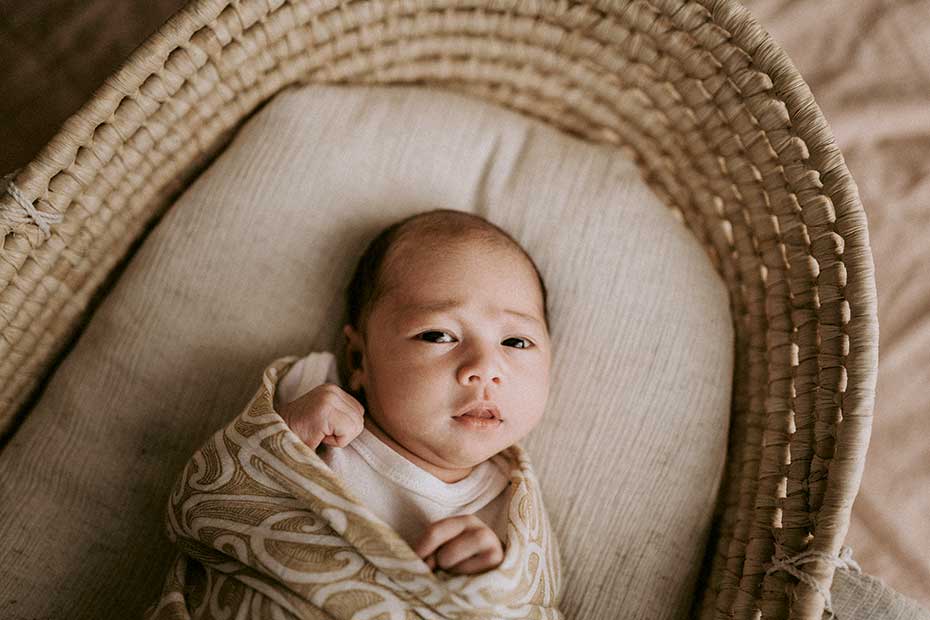 Every sleep your baby has should be a safe sleep.
Babies are at risk of Sudden Unexpected Death in Infancy (SUDI) up until they are around 12 months of age. Every year in New Zealand, too many babies die suddenly in their sleep. Most instances of SUDI are preventable.
Put your pēpi to bed safely and protect them by making sure:
Your baby is always put to sleep on their back.
Your baby is put to sleep in their own bed, such as in a bassinet or cot. If you choose to share your bed with your baby, your baby must sleep in their own bed next to you, such as in a wahakura or Pepi-Pod®.
Your baby sleeps in the same room at night as their parent/caregiver for at least the first six months.
Your baby's sleeping area is safe. Your baby must be on a firm, flat mattress and be positioned with their feet close to the end of the bed so they can't burrow under the blanket. There should be no gaps between the mattress and the bed frame.
Your baby's face is clear of bedding or anything else that might cover their face or choke them – no pillows, loose bedding, toys, cot bumper, or necklaces.
Your baby has clothing and bedding that keeps them at a comfortable temperature. A good rule of thumb is to dress your baby in one more layer than you are wearing to stay warm. If your baby is cold, dress your baby in warmer layers rather than adding more blankets to their bed.
You keep your baby safe if swaddling. A firm (not tight) full-body swaddle is fine for a baby less than six weeks old. Then you should transition to arms-free. Once they can roll from back to front, they must be unswaddled.
Your baby is being taken care of by a sober parent or caregiver who is alert to their needs and free from alcohol or drugs.
You are smokefree in pregnancy and after birth.
Your whānau, whare (home), and waka (car) are smokefree.
You exclusively breastfeed your baby until six months of age and continue breastfeeding up to the age of two years and beyond.
You immunise your baby on time.
Car seats and capsules are for protecting your baby when travelling in the car only. It is not safe for your baby to sleep in when you are at home or have reached your destination.
Many Hapū Wānanga antenatal courses provide hapū wāhine with a wahakura upon completion of the programme. Alternatively, some district health boards (DHBs) offer Wānanga Wahakura, a free workshop where you can learn from expert weavers how to create your own wahakura for your pēpi. Ask your LMC for information on upcoming Wānanga Wahakura in your local area.
If you can't afford to buy a bed for your baby, tell your LMC, GP, or Well Child Tamariki Ora nurse. You may be eligible for a free Pēpi-Pod® or you may be able to apply to Work and Income for a Special Needs Grant to purchase one. Visit workandincome.govt.nz or call 0800 559 009 to enquire.