Flat Head Syndrome in Babies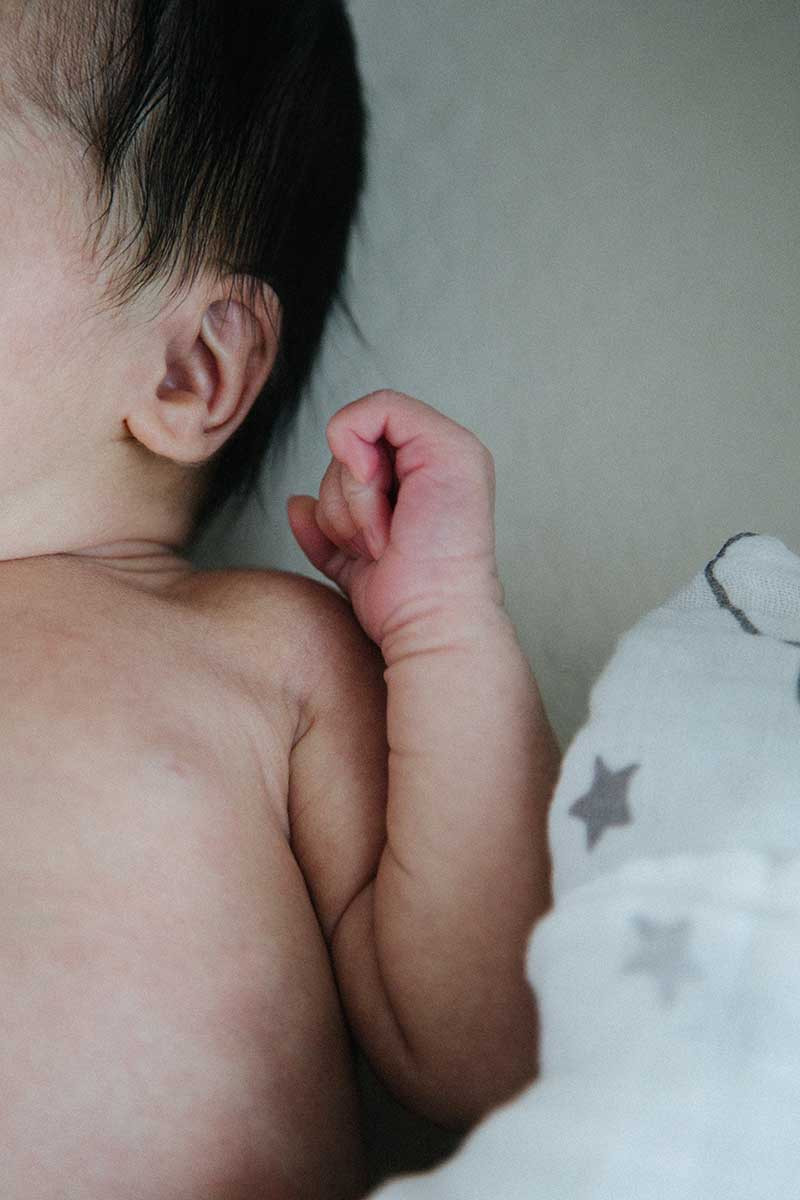 The cause of this common condition in babies and how to safely prevent it.
WHAT IS IT?
Plagiocephaly is the medical name for the condition commonly referred to as flat head syndrome. Essentially, it is when a flat spot develops on your baby's head, often at the back and to one side. Babies who have misshapen heads due to plagiocephaly often resolve by age three and don't require additional medical treatment.
WHAT IS THE CAUSE?
Babies' skulls are softer than that of an adult so they can more easily mould into a flat shape with pressure and gravity. Flat head syndrome is usually due to a baby spending too much time lying on the same part of their head when going to bed.
Not having enough time lying on their tummy when they are awake and spending lots of time in a car seat, pram or bouncinette can also contribute to the condition.
Flattened areas on the head can also be associated with torticollis. This is a condition where the muscles on one side of the neck are tight, preventing the baby from moving their head in both directions, therefore favouring one side over the other.
HOW CAN I PREVENT AND TREAT IT?
The best way to help prevent flat head syndrome is by alternating the side of the head which your baby sleeps on each time they go to bed. If you notice a flat area developing, tilt their head to be on the more rounded side when you put them down to sleep. Your baby may also favour one side to turn and face things they like looking at. In this instance, you might like to consider changing the end of the cot that your baby goes down at or turning the cot around.
You can also help by doing regular tummy time with your baby. Aim for 30 minutes per day but this doesn't have to be done all at once, it can be in short increments throughout the day. When your baby is playing on the floor on their back, try to keep the pressure off the flattened area by placing toys on the side where you want to encourage them to turn their head. It's also a good idea to have your pēpi only spend time in their car seat, pram or bouncinette when it is needed.
I'M WORRIED ABOUT THE SHAPE OF MY BABY'S HEAD. WHAT SHOULD I DO?
Contact your GP or speak to your Well Child Tamariki Ora nurse about your concerns. They can give you further advice or refer your baby to a specialist paediatrician if required. If your baby has torticollis, your GP may refer you to a physiotherapist to help treat and prevent the condition.
Your baby should always be put to sleep on their back to reduce the risk of SUDI. To help with head flattening, simply try to turn their head to a different side each time they sleep.