Sun Safety Advice for Babies and Toddlers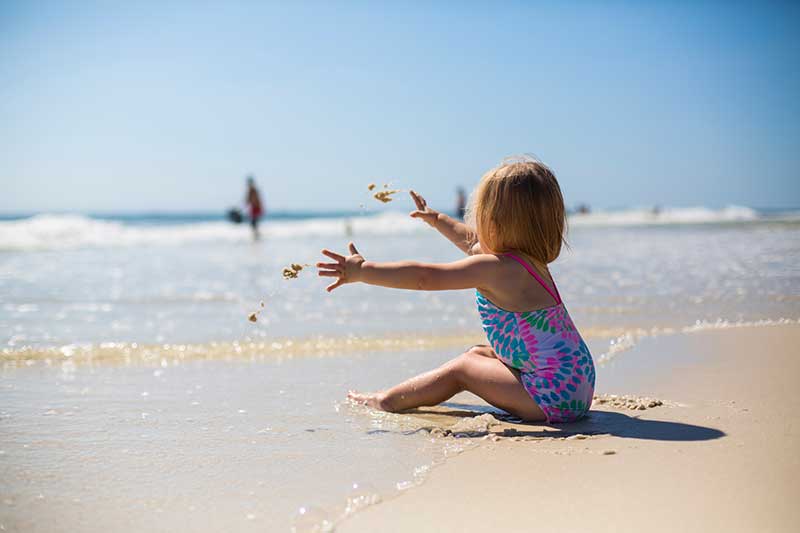 Slip, slop, slap and wrap applies to young children and babies too!
The best way to keep your child safe from the sun is by keeping them in the shade, including when in the pram.
When outside – even on cloudy or cool days – they should wear a wide-brimmed hat that protects their neck and ears, and clothing that protects their skin yet keeps them cool (dark-coloured, natural fabrics without too much stretch are ideal).
Apply a broad spectrum sunscreen with a sun protection factor (SPF) of at least 30 on them 20 minutes before they go outside, even o

n cloudy days, 

when it's cool, and 

when you're in the shade as UV rays can reflect off surfaces

.
When trying a new sunscreen, apply a small amount for a patch test at least 24 hours before you plan on using it to make sure your little one doesn't have a reaction.

Keep in mind that b

abies under six months of age have very sensitive skin so may react to sunblock – for this reason, some parents choose to keep their young baby in the shade and wait until they're older to apply sunscreen.
Some sunlight is good for your child to get the vitamin D that their body needs, but it should be in small doses of 5-20 minutes per day when the sun isn't too harsh. In the daylight savings months (September to March), it's best to only expose them to some gentle direct sunlight before 11am and after 4pm.
For further advice on sun safety, visit SunSmart.