Recipe: Two Islands Vanilla and Coconut Overnight Oats
Prep 5 minutes. Chill overnight. Makes 1 serving.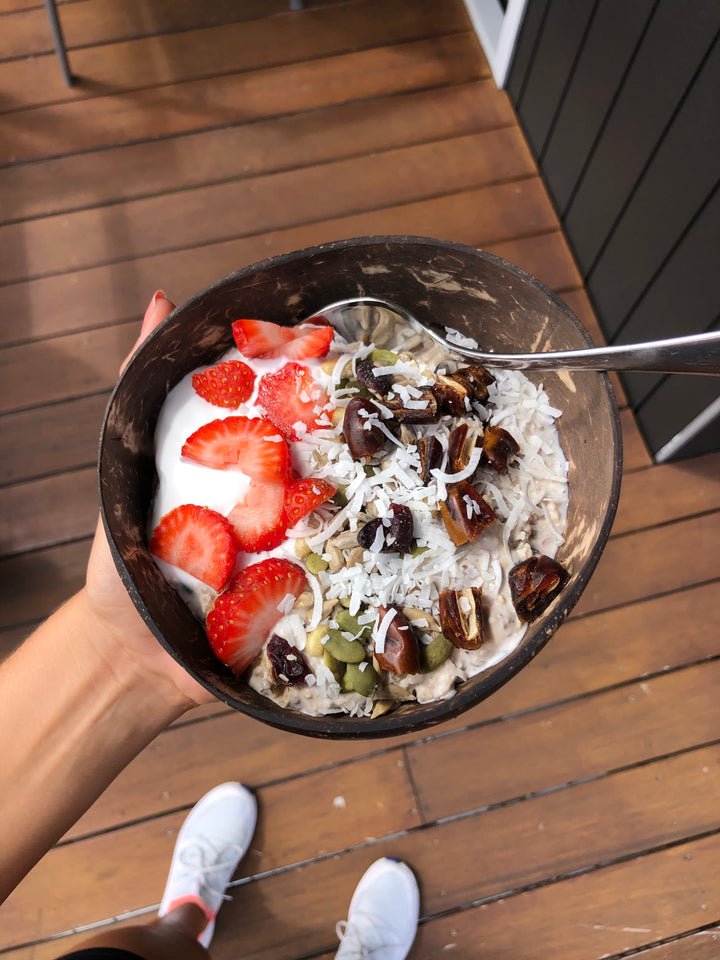 When you have a new baby, making a nutritious breakfast for yourself can be… well, not such a priority. But it should be! This simple, prep-in-advance recipe makes for an effortless and tasty start to your day. Plus, oats are a galactagogue which is fantastic for milk supply.
Ingredients
OVERNIGHT OATS
1/3 cup rolled oats
1 tablespoon chia seeds
1 tablespoon flax seeds
1 serve, 25 grams, Two Islands Vanilla Pea Protein Powder
1/2 cup almond milk
TOPPINGS
1 teaspoon pumpkin seeds
1 teaspoon sunflower seeds
1 teaspoon shredded coconut
1 teaspoon dried fruit
1 tablespoon coconut yoghurt
Chopped fruit of choice
Method
Add all of the overnight oats ingredients into a jar and stir together until well mixed.
Leave in fridge for at least 2 hours, preferably overnight.
Prepare your chopped fruit of choice, and any other toppings you wish to use.
Feel free to transfer overnight oat mixture to a bowl, or keep in the jar.
Add your coconut yoghurt, fruit, seeds and other toppings of choice.
This Vanilla and Coconut Overnight Oats recipe was created for Two Islands by Briar from @bbb.fit.