Prep 30 minutes. Cooking time 60 minutes. Serves 2 Adults + 3 Children.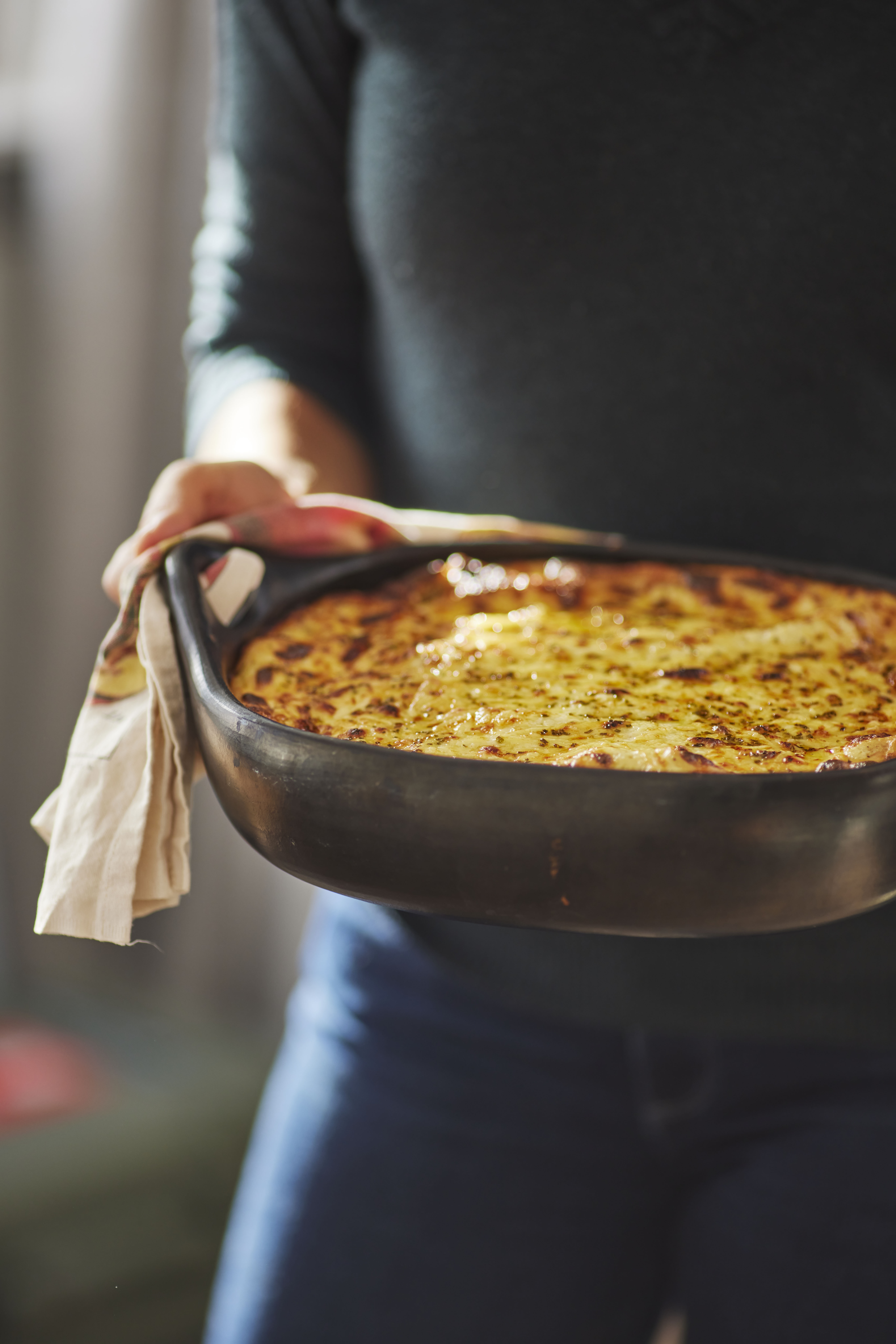 Who doesn't love lasagne? And this lasagne, with eight different vegetables(!) is no exception. A brilliant way to get kids eating and enjoying a wider range of vegetables
Ingredients
1 onion, finely diced
1 eggplant, finely diced
1 courgette, finely diced
1 capsicum, finely diced
1 loosely packed cup grated pumpkin or carrot
150g button mushrooms, stems removed, diced
3 cloves garlic, finely chopped
½ teaspoon dried
mixed herbs
½ teaspoon paprika
¼ cup tomato paste
400g can crushed tomatoes
400g can brown lentils, rinsed and drained
¾ cup vegetable stock
or water
2 teaspoons
balsamic vinegar
1 teaspoon sugar
3 handfuls of chopped spinach or baby spinach
400g dried or fresh lasagne pasta sheets
White sauce
50g butter
2 tablespoons plain flour
2 cups full-cream milk
1 cup grated cheese + ½ cup extra for sprinkling
2–3 tablespoons finely chopped parsley
Method
Preheat oven to 200°C. Grease a large lasagne or baking dish (about 20 x 30cm) with olive oil.

Heat a good drizzle of olive oil in a large fry pan on medium-high heat. Cook onion, eggplant, courgette, capsicum, pumpkin or carrot, mushrooms, garlic, dried herbs and paprika for 8–10 minutes or until soft and most of the liquid has evaporated.
Add tomato paste, crushed tomatoes, lentils, stock, balsamic vinegar and sugar. Bring to a simmer and cook for 5 minutes or so until it has thickened. Stir through spinach until wilted and season to taste with salt and pepper. Set aside.
To make the white sauce, heat butter in a pot on medium heat. Stir in flour with a wooden spoon and cook for about 1 minute until golden and frothy. Whisk in

½

cup milk, then remaining milk (about

½

cup at a time) until smooth and there are no lumps. Continue whisking sauce frequently whilst it is cooking to avoid any lumps forming. Cook for about 5 minutes or until sauce has thickened. Stir in cheese and parsley, and season to taste with salt and pepper.

To assemble lasagne, spread a few tablespoons of the vegetable sauce over the base of your baking dish and top with a single layer of lasagne sheets (you may need to cut or break lasagne sheets so that they fit).
Spoon over half of the remaining sauce and top with another layer of lasagne sheets. Repeat with remaining sauce and one more layer of lasagne sheets.
Pour over cheese sauce and sprinkle with extra grated cheese. Bake for about 30 minutes until bubbling and golden brown. Leave to rest for about 10 minutes before cutting and serving.
Tip
To make a dairy-free white sauce, use a dairy-free spread in place of butter, dairy-free milk (e.g. soy or oat milk) and 2 teaspoons nutritional yeast in place of the cheese (for a cheesy flavour).
Recipe and image extracted from YUM! by Nadia Lim, Annabel Inglis and Dieticians Jenny Douglas and Lisa Daniels, Published by Nude Food Inc, RRP: $55.00. Photography by Matt Quérée and Isabella Harrex.