Recipe: Harraways Feijoa, Raspberry and Coconut Smoothie Bowl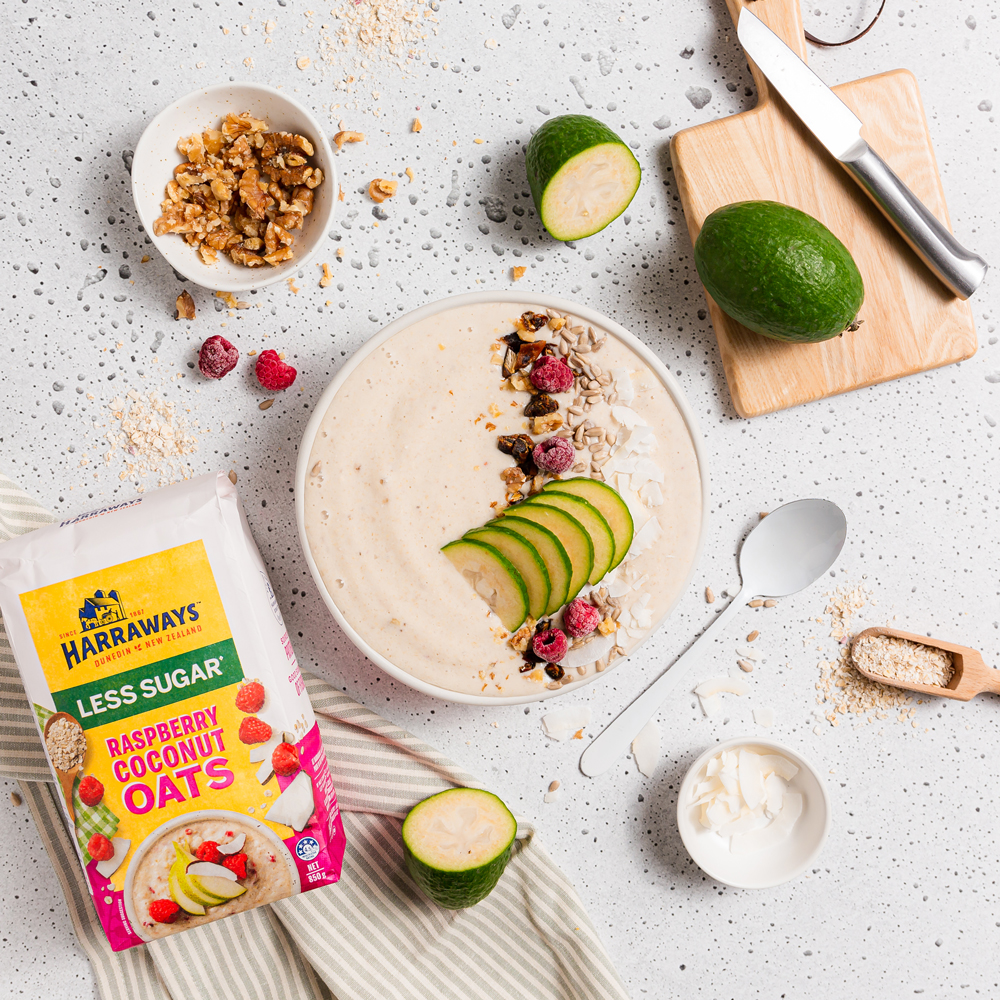 Seasonal, refreshing and nutritious, this smoothie bowl makes for a yummy breakfast on Mother's Day – or any other day for that matter! Plus, if mum is currently breastfeeding, oats are a galactagogue meaning they're fantastic for milk supply.
Ingredients
Smoothie bowl
2 large feijoas, peeled and chopped 
Handful of ice cubes
½ cup Harraways Less Sugar Raspberry and Coconut Oats
1 frozen banana
¾ cup of milk (cow, almond, soy, coconut, almond, oat)
Toppings
Handful of thawed frozen raspberries 
1 feijoa, sliced
1 tablespoon coconut (can use desiccated, thread or flakes)
1 tablespoon of nuts (cashews, almonds, pistachios or macadamia)
1 tablespoon of sunflower seeds (or pumpkin seeds)
3 dates, chopped
Method
Blend all smoothie ingredients until thick and smooth.  Scoop into a bowl.

Sprinkle toppings over the smoothie and serve with a spoon!
Tip: Make the smoothie bowl just before serving so that it doesn't go brown.
Suggestions:
Feijoas freeze well, just peel them and chop into chunks, that way you can enjoy feijoas out of season.

A few frozen avocado chunks would be delicious in this – fresh avocado will not be in season. Or, if your mum loves green smoothies, you could add a few washed spinach leaves.
Harraways and Whānau Āwhina Plunket are proud to be celebrating Mother's Day this year by bringing back breastfast in bed for 2022. Help make Mother's Day special by donating a minimum of $30 to support the amazing services Whānau Āwhina Plunket provides within our communities and in return you will receive a Mother's Day Breakfast Box full of items to spoil mum this year!
Buy your Mother's Day Breakfast Box here and spread the love with Plunket and Harraways.