Using a Comb During Labour For Pain Relief: Would You Try It?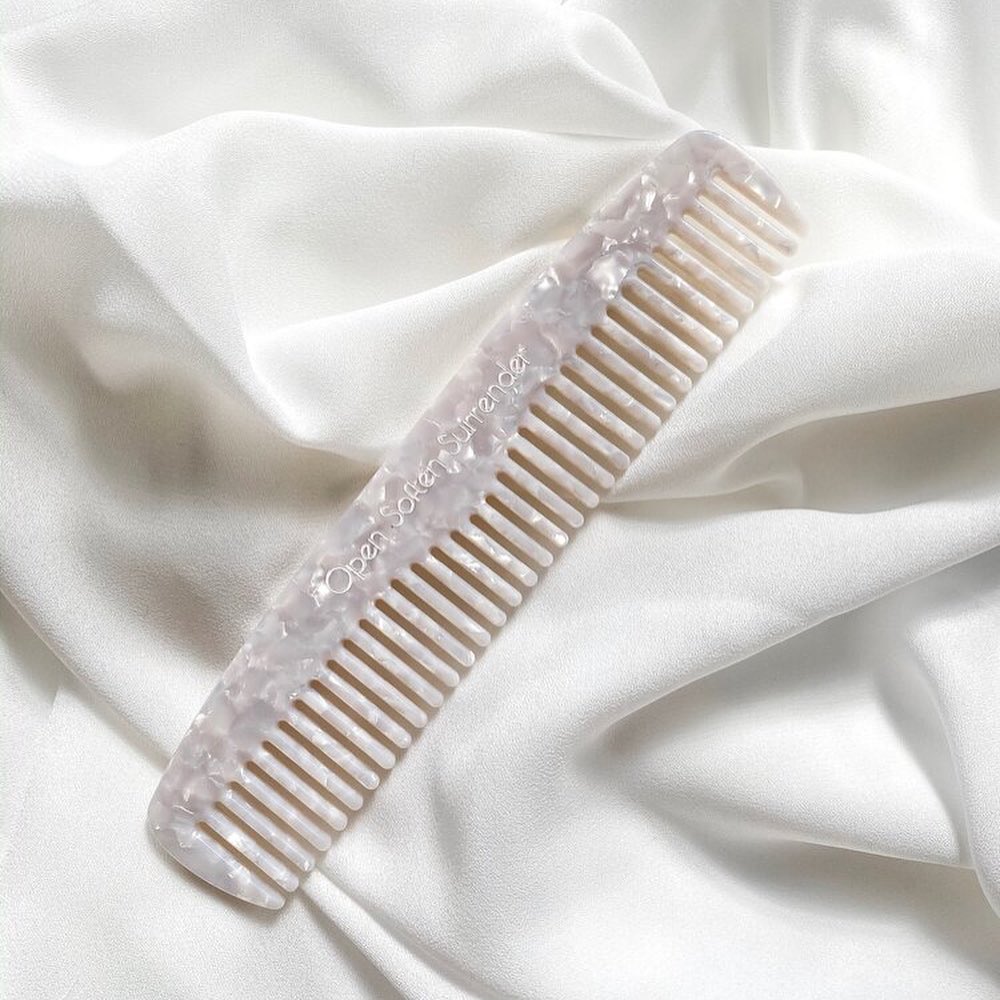 Acupressure is a labour pain relief technique loved by birthing people, doulas, and midwives alike.
From a TENS machine to counter pressure, there are numerous natural or drug-free pain management options that can be used during labour.
Research shows that acupressure is "an effective, non-invasive, and easily applicable technique to reduce labor pain" and one unique tool that is becoming increasingly popular for practising this is a labour comb.
HOW DOES IT WORK?
This simple yet effective method is said to work as an acupressure technique whereby Gate Control Theory is activated – this is when the 'gate' between the spinal cord and brain is 'closed' to help reduce pain. Essentially, nerve impulses that are transmitted to the spinal cord are interrupted by the feeling of the comb being tightly gripped, acting as a distraction for the brain and altering the birthing person's perception of pain. As the comb is held during labour, there is more of a focus on the sensation in the hand than there is on the intensity and pain of the uterine contraction.
HOW DO I USE IT?
Grasp the comb in the palm of your hand, with the teeth at the base of your fingers. When you feel a contraction starting, squeeze the comb to activate its benefits.
WHEN SHOULD I USE IT?
Most birthing people find this tool most useful in active labour when their contractions are stronger, more frequent and more intense.
By this stage on the day, you may forget about the labour comb as an option so when you're discussing your birth preferences with your support team ahead of time, ask them to offer it to you when you're in the throes of labour.
DO I NEED TO GET A SPECIAL COMB FOR LABOUR AND BIRTH?
No, any comb will do! Some people prefer to use a wooden one or to find a plastic comb with more rounded, rather than super sharp teeth as you don't want to cause any damage to your skin, especially if you end up using it for a long period of time.
View this post on Instagram
There's no right or wrong techniques for managing pain in labour, natural and pharmacological alike. Even if you're skeptical of some methods, like the labour comb, there's no harm in having a selection of strategies in your labour toolkit to draw from on the day – this way you can trial them all and see what is most effective for you.