Ask Our Experts: How to Get Your Sex Life Back Postpartum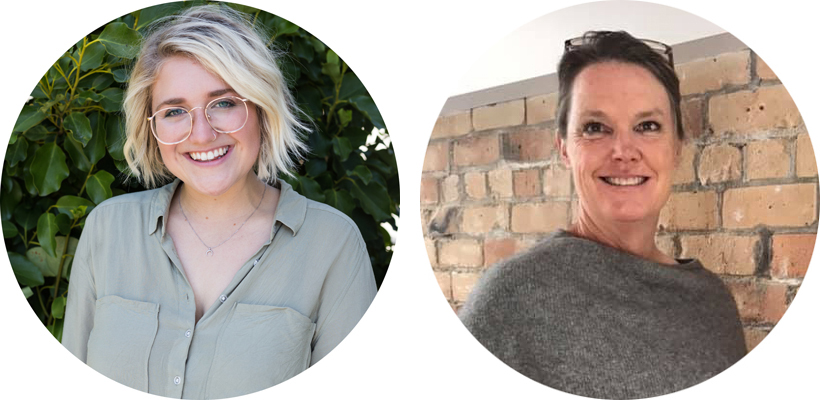 Q: How do I get my sex life back on track postpartum? I'm 19 months postpartum and it's honestly so hard, sleep wins every time!
Chelsea: Firstly, I would say to cut yourself some slack if you're feeling the pressure but not quite feeling that desire come back yet. You're still adjusting to life postpartum (postpartum is forever!) and you've had many hormonal changes along the way, which affects mood, libido, and more. The need for sleep is strong! And sleep deprivation affects all areas of life in a big way.
Find activities that you enjoy doing with your partner and bring back some no-pressure intimacy first, cuddling, holding hands, kissing. Don't make the goal to have sex. Carve out some time during the day to pay 100% attention to one another (maybe not at night when you're the most tired) and see what happens.
Another big one is to communicate with your partner. Are you assuming there are expectations to have sex? Have an open discussion about what you both are needing and find ways to be close with one another that can support both of your needs. For example, one partner might just want some closeness at night or some undistracted quality time together. Tune in to yourself: How is your libido? Is sex important to you right now? Be honest with yourself and communicate that with your partner. There are seasons in life where sex isn't front and centre.
If you're really wanting things to get back on track but not sure how to tune into that side of yourself now that you're navigating this new life, you could enlist the help of a holistic sexuality coach. Melissa Vranjes is an Auckland-based holistic sexuality coach who offers virtual support anywhere in the world, her work is to help you unlock your own libido and tune in to yourself and your body so you can bring that into your relationship. Better yet, do some exercises or a course with your partner! It can be a lovely commitment to re-make to one another to prioritise your relationship and intimacy.
Follow Chelsea on Instagram @wholewellnesscoand @foryoupostpartum. You can visit her website for Whole Wellness Co and sign up to be notified when For You Postpartum launches here.
Worried about having sex for the first time after birth? Read our guide

here

.
Cathy: Be reassured that for lots of parents with young children, renewing their sex life and relationship can be quite frustrating. I say if it's important to you as a couple then you have to make the time. The five most important things in life should be work life, family life, emotional self-care, physical health, and relationships; each needs to be given equal importance but it is a balancing act.
The feeling of not wanting sex can be due to ongoing birth traumas, feelings of being touched out, or feeling like your body isn't yours anymore. Plus, yes, being tried and choosing sleep. But for many couples, if it is important, when they do make the time and effort to have sex they feel better, more connected, and less tired and stressed.
Things that might help… getting time away from your baby to yourself, even just having time to do some personal care that makes you feel more attractive like moisturising your skin, doing some exercise, or any personal care that's important to you like hair washing, shaving legs, etc. Wear clothing that makes you feel more attractive rather than focusing on post-baby weight. I also often say it's time to get rid of the pregnancy underwear, buy a new pair of knickers you feel attractive in every month. Do the basics of relationship care with your partner daily too, like a good morning kiss, a hug hello, "nice to see you" when they come home. Even gentle touch while watching TV can go a long way.
You don't always have to have sex at night either! I often suggest to couples that early morning sex and sex during baby's nap time can be good opportunities. Also, don't rate the experience, just start with sex that's manageable, we don't need fantastic experiences every time – sometimes we just want quick connections. Lastly, our children do grow up and we do get more opportunities, so communicating with each other will sort most problems.
Follow Cathy on Instagram @holisticbaby. To book a consultation with Cathy, contact her via the details on her website.