Recipe: Two Islands Vegan Caramel Slice
Prep 30 minutes. Makes 9-12 slices.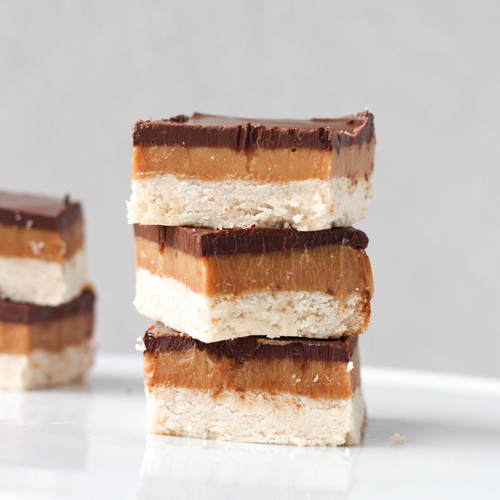 Who could ever turn down anything with caramel involved? Especially when it is layered between a shortbread base and dark chocolate. This one is a crowd favourite!
Ingredients
BASE
1/2 cup vegan butter, or softened coconut oil
1/3 cup maple syrup
2 cups gluten-free flour
1 serving Two Islands Vanilla Protein Powder
1 tsp vanilla extract
1 tsp salt
CARAMEL
1/2 cup cashew butter
1/4 cup maple syrup
1/4 cup coconut oil
1 tsp salt
CHOCOLATE TOPPING
200 grams dark chocolate
2 tbsp coconut oil
Method
Preheat the over to 170°c and line a baking tray with baking paper.
In a bowl, beat the butter until light and fluffy. Add the maple syrup and vanilla, and beat until combined.
Stir through the flour and protein powder until combined. If the mixture is a little dry, add small amounts of sweetener.
Press the dough into the baking tray and bake for approx. 13 minutes until golden, let cool.
To make the caramel, add all of the ingredients to a small sauce pan on medium heat. Stir until everything has melted together, then pour on top of the dough, refrigerate until firm.
Melt together the chocolate and coconut oil until combined. Pour on top of the caramel. Set in the fridge and cut into slices. Enjoy!
This Vegan Caramel Slice recipe was created for Two Islands by Olivia from @bitesbyliv.