Recipe: Chocolate Mousse by Chelsea Winter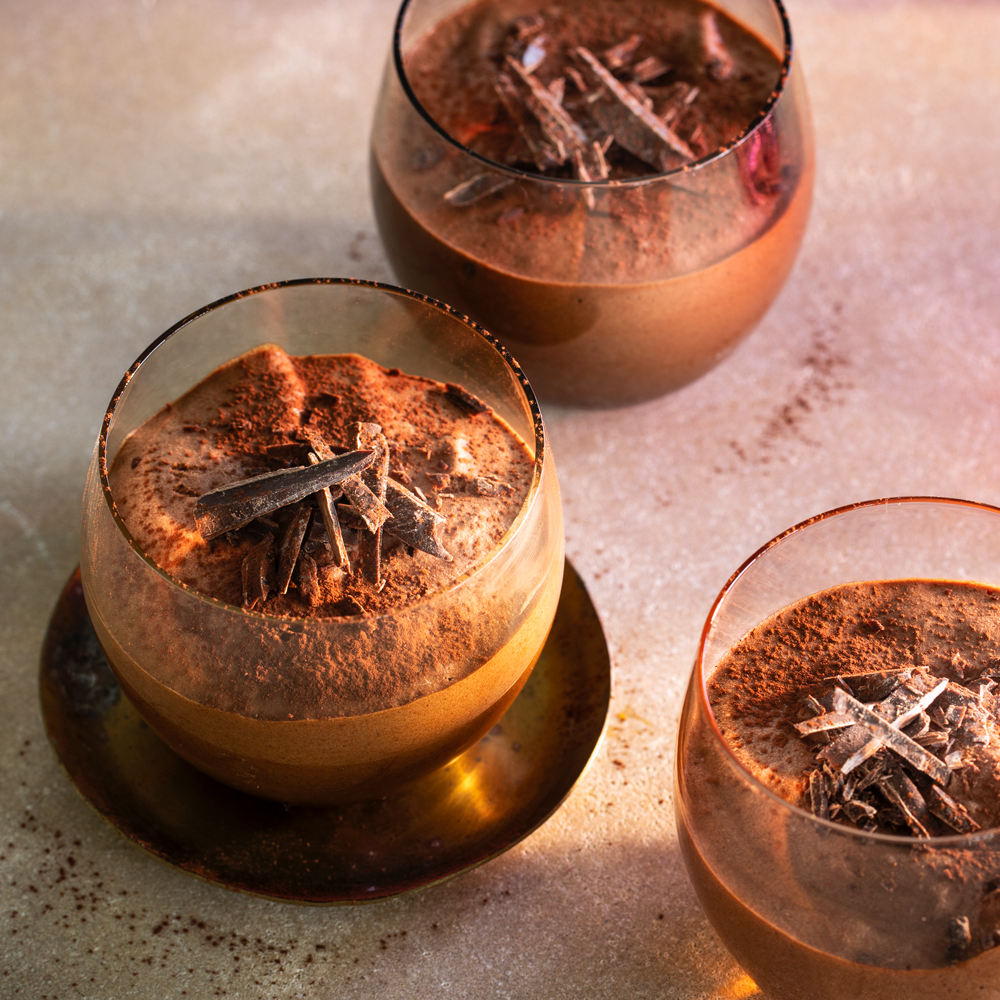 Prep 20 minutes, plus 4 hours to set. Serves 4.
Method
Have four small glasses or ramekins ready for the mousse, and make space in your fridge.
Chop the chocolate up finely on a clean, dry chopping board using a large, sharp knife. Transfer to a heatproof bowl (Pyrex or ceramic).
Set the bowl over a saucepan with a little gently simmering water in the bottom (make sure the water doesn't touch the bowl). Leave it there for a few minutes until you can see that the chocolate has melted quite a bit, then gently stir every now and then until smooth.
Add the just-boiled water and stir it through. Remove the bowl from the pan and leave to cool slightly while you beat the aquafaba.
Pour the aquafaba into a large, clean mixing bowl (metal, Pyrex or ceramic is best). Beat with an electric beater on high speed for a few minutes until you have a lovely thick, pillowy cloud, like meringue. When you tip the bowl upside down, the fluff should stay put.
Fold about a cup of the whipped aquafaba through the melted chocolate to aerate it.
Now, scrape the aerated chocolate mixture into the bowl containing the remaining aquafaba, and fold lightly and lovingly with a spatula until it's evenly combined — a light brown, pillowy mass. If your mixture seems a little runny at this point, don't despair; it will still set like mousse.
Ladle or pour the mixture into the prepared glasses and refrigerate for about 4 hours to set.
When ready to serve, sprinkle with finely chopped chocolate and dust with cocoa.
Tips:
Mixing melted chocolate with

anything

is always a bit of a gamble — sometimes you follow the instructions to a T and the end result is still a little grainy. If that happens, don't worry about it — it'll still taste awesome.

You can add some fresh berries on top for a refreshing pop of flavour and colour.
Extracted from Supergood by Chelsea Winter, published by Random House NZ, RRP $50.00.
Text © Chelsea Winter 2020. Photography © Tam West 2020