Recipe: Oreo Cheesecake by Chelsea Winter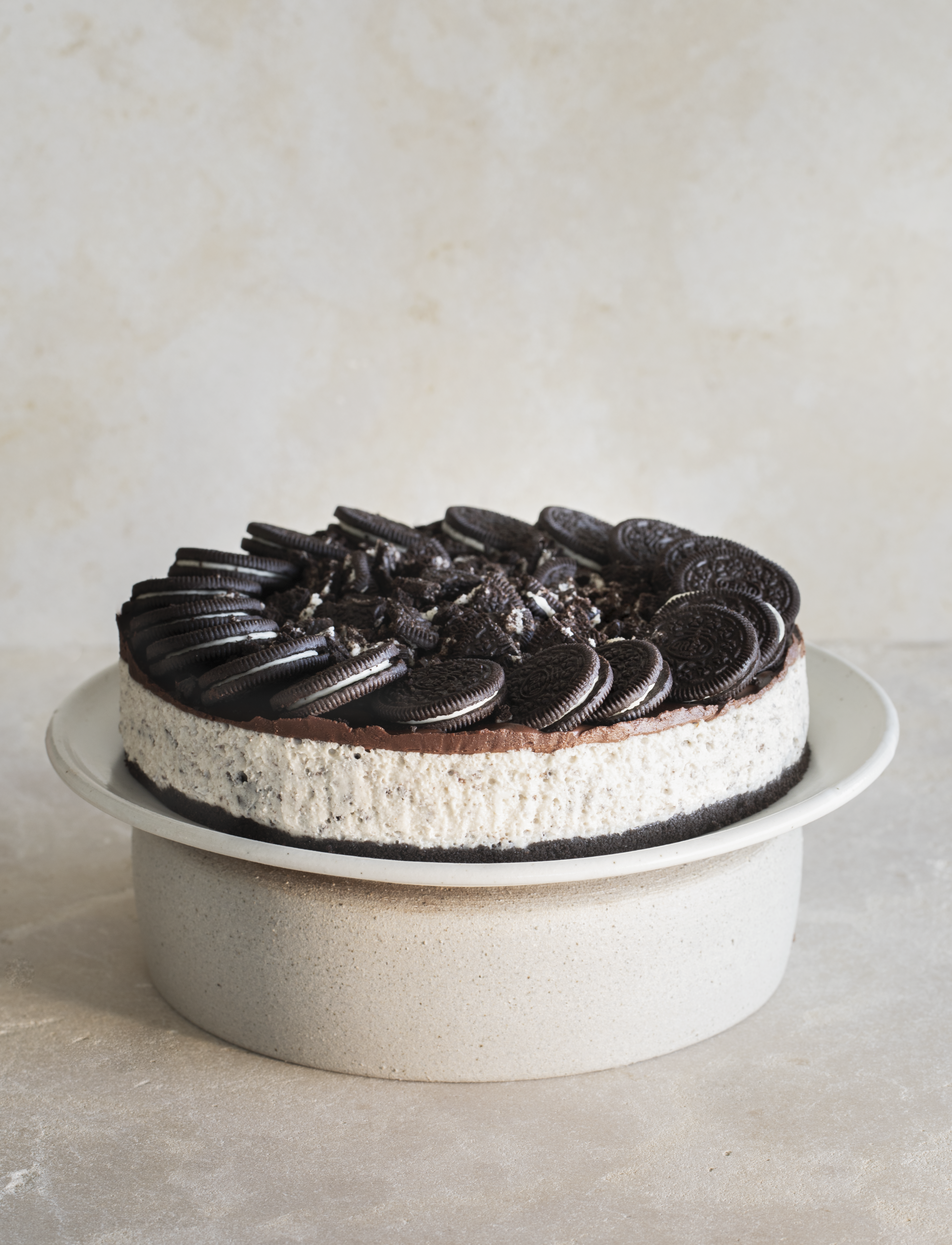 Prep 30 minutes, plus 6+ hours soaking time and 7+ hours to freeze. Serves 10.
Ingredients
Base:
2 x 137g packets Oreos
2 tbsp coconut oil
Filling:
2½ cups raw cashews
1 cup coconut cream
½ cup melted coconut oil
1 cup icing sugar
1 tbsp vanilla bean paste (or vanilla extract)
¾ tsp salt
1 x 137g packet Oreos, very finely chopped
Topping:
100g dairy-free eating chocolate, chopped
100ml coconut cream
2 x 137g packets Oreos
Method
Place the cashews in a large heatproof bowl and cover with just-boiled water. Leave for 6 hours to soak (overnight is even better). Drain and rinse.
Line the base and sides of a 22–23cm springform tin with baking paper.
Place the base ingredients in a food processor and whizz until you have a fine crumb. Tip into the tin and press into an even layer (easiest with wet fingers or a spatula).
Place the drained cashews, coconut cream, coconut oil, icing sugar, vanilla and salt in a blender (a food processor works, but a blender is ideal). Process or blend until silky smooth — this could take 1–5 minutes, depending on how good your machine is. Transfer to a bowl and fold through the chopped Oreos.
Pour the mixture on top of the base, cover and freeze for about 2 hours before adding the chocolate topping.
Place the chocolate and coconut cream in a heatproof bowl sitting over a saucepan with a little simmering water in the bottom (don't let the bowl touch the water). Leave it until the chocolate has nearly melted, then stir until smooth. Spread gently over the cheesecake in an even layer, then arrange overlapping Oreos around the outside and crumble some up in the middle.
Cover and freeze again for 4–5 hours, or overnight, to set. When you're nearly ready to serve, take the cheesecake out of the freezer and let it sit for 30 minutes or so to soften before you cut into it.
Tip: The cheesecake will hold up in the fridge once defrosted.
Extracted from Supergood by Chelsea Winter, published by Random House NZ, RRP $50.00.
Text © Chelsea Winter 2020. Photography © Tam West 2020