Māmā Muse: Skye Ross, Editor of Soteria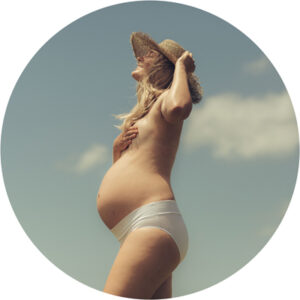 We spoke to Skye Ross, māmā of one and editor of our Hey Māmā and Hey Pēpi publications, about her experience with breastfeeding her toddler, night weaning, toilet training in lockdown, and parenting respectfully.
Kia ora Skye. Ko wai koe?
Ko Te Whakapunake o Te Matau a Maui-tikitiki-a-Taranga tōku maunga.
Ko Te Wairoa Hōpūpū Hōnengenenge Mātangi Rau tōku awa.
Ko Tākitimu tōku waka.
Ko Ngāti Kahungunu ki Te Wairoa tōku iwi.
Ko Te Uri o Te O tōku hapu.
Ko Skye Ross tōku ingoa.
Nō reira, tēnā koutou katoa.
Tell us about your whānau and your journey to motherhood so far.
I'm māmā to Albie (2.5) and partner to Mark. I found out I was pregnant around eight months after going off the pill. We were surprised as we weren't actively trying yet but were beyond excited. I had horrendous morning sickness until 16 weeks but after that I adored being hapū with Albie.
Motherhood has been a wild ride – it's simultaneously the most joyous and most challenging experience of my life! I've discovered that children are the perfect medium for showing you your greatest strengths, your deepest flaws, and all your triggers. They are like a mirror to your innermost self.
Becoming a māmā has been less about what Albie's doing and more of a journey in discovering who I am as a person – both in and out of motherhood – and learning to nurture, raise and parent her calmly and respectfully.
What do you do for work?
I work as a freelance brand strategist, copywriter, and digital marketing consultant. For Soteria, I'm the editor so I write and plan the Hey Māmā and Hey Pēpi publications. I manage the website content and run the digital channels too.
I also have a podcast called Motherness where I hold conversations with mothers and experts in Aotearoa. The intention is to shine a light on the realness of raising babies and life postpartum, from the first moments to the years beyond.
How do you juggle mum life with work?
Albie goes to daycare and crèche 3.5 days per week which gives me the chance to have dedicated work time. I've never been able to work with her around – I feel guilty and she doesn't respond well when I do, so I try to have clear boundaries in that respect. She started daycare at 18 months which was good timing for both of us, I wasn't ready until then so there were a lot of late nights at the laptop prior.
View this post on Instagram
You've been breastfeeding for 2.5 years now. How did your breastfeeding journey play out in the early days and how do you find breastfeeding a toddler now? Do you have any plans to wean?
The first week was fine but once cluster feeding set in, it went downhill quickly. I was in excruciating pain with cracked, bleeding nipples – it got so bad that I would cry in fear and Mark had to coach me to latch Albie on. So, my midwife referred me to a lactation consultant who diagnosed Albie with a mild tongue tie. That, along with an oversupply and fast letdown on my part, meant she couldn't latch deeply enough. The lactation consultant taught me to do reverse pressure around my areola to soften the nipple, making it easier for Albie to latch, and we also did a laid-back position whenever we fed.
Albie's gone on a breast strike twice (at 7 months and 11 months), which I've pumped through and eventually managed to get her back on the breast. We've experienced the biting stage, the boob yoga stage, and as she's got older, I've encountered some aversions. Now that she can understand more, I'm better able to set boundaries in terms of when she feeds and for how long.
We recently night weaned which felt like quite a milestone but I don't have any plans to day wean yet. I'm hoping it happens gradually so it's a gentle process for both of us.
How did you go about night weaning and how was it?
It was so much easier than I thought it was going to be! We bought the book, Nursies When the Sun Shines which we read to Albie for a few weeks to plant the seed.
I started talking to her about my boobs going to sleep at night soon because they've been feeding her for 2.5 years and they're tired – I didn't want to lie to her but it was a simple enough concept for her to comprehend. I told Albie she could feed in the daytime when the sun is up and that if she woke in the night we would offer her water and a cuddle.
During the days leading up, I'd ask her questions like "What's happening with Mummy's boobs tonight?" and she'd say "Sleeping." Or "Mummy's boobs are going to sleep tonight, so when can you have boob?" and she'd answer with "In the daytime, when the sun's up."
I think she woke every night for about a week asking to feed and I reminded her what was happening. She didn't fight it much at all though. Mark or I would lie next to her cot and hold her hand until she fell back asleep. Since then, she's pretty much slept through the night other than when she's been sick.
Describe your approach to parenting for us and tell us, how does that look practically for you in terms of sleep/feeding/emotions/schedules, etc.?
We aim for peaceful, respectful, and calm parenting. That doesn't mean there are no boundaries but we talk about natural consequences in our home and all emotions are valid.
Since the start, I've breastfed on demand and, up until we night weaned, I fed Albie whenever she woke at night. I've always followed a schedule for naps though because I do think kids thrive off routine so yes, I'm one to wake my child from her nap! Although, around Albie's second birthday I finally surrendered to the fact that no matter what I did with her day sleep, it never made her sleep through the night. As I've said though, she does sleep through the night since weaning.
You've embarked on toilet training Albie during lockdown. How did you know she was ready and what was your method?
I did the Looloo Online Toilet Training Webinar a few months ago. Laura, who takes the course, talks about the signs of readiness and gives you a clear breakdown of the whole process. Albie went nappy-free a few days into lockdown and she's now 90% of the way there! I also listened to this Beyond the Bump podcast episode which is a great place to start, no matter how old your pēpi is.
View this post on Instagram
What does self-care look like for you now that you're a māmā?
Daily Vedic meditation, weekly pottery classes, learning Te Reo Māori, connecting with Te Ao Māori, and reclaiming my whakapapa.
What has motherhood taught you about yourself?
That even on the days where I feel like I'm not doing a good job, I'm exactly the kind of mother I aspire to be – dedicated, respectful, loving, and kind.
Tell us about a māmā who is your muse.
I have 11 and they're all in my coffee group from antenatal classes. Those māmā are my village, my community, my sisters. I wouldn't be the māmā I am without them.