Interview with Artist, Full Spectrum Doula and Certified Lactation Support Counsellor, Holli McEntegart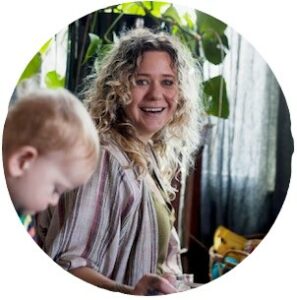 We spoke to Holli McEntegart, mum-of-two, artist, full spectrum doula and certified lactation support counsellor about Motherhood, postpartum care, and INHABIT a living artwork for new parents to come together and share their experiences, happening in Wellington this week.
Kia ora Holli. Can you start by introducing yourself? Tell us about your whanau, where you live, and what you do for work?
Kia ora, I'm Holli, I'm an artist and a parent to two gorgeous little boys, Arlo (4yrs), and Indigo (6 months). We live in Tāmaki Makaurau, where I work as a full spectrum doula and certified lactation support counsellor (CLSC) at Dear Arlo.
I trained as a doula in New York City where I met my husband, Michael, and gave birth to my first son, Arlo. Before having babies, I lived and worked as an artist in New York. My current work on Motherhood is central to my art practice, which focuses on re-centering and healing through lived experience. My work as an artist AND as a doula is underpinned by a desire to unpack the complexities of sometimes overlooked and devalued human experiences such as motherhood – so we may collectively offer new visions and actions for change.
You founded INHABIT, a pop-up postpartum support centre which is taking place in Wellington right now. Can you tell us a bit about your vision for INHABIT and the mahi you do there?
INHABIT is a living artwork that is a social space for new parents to come together to share their postpartum experiences within a context of care and social activism, as well as a place of story sharing and collection. The website documents the happenings and is an archive for storing those stories.
A part of this archive includes Post-it notes that I create to situate in new parents' homes – hidden inside bathroom vanities and bedside draws for tired eyes to find in moments of need. Post-it notes like this have been shared with me from doula's all over the world – and are included as an expanded and inclusive component of the INHABIT project.
Over the past two weeks visual echoes of these intimate postpartum exchanges have been appearing around Wellington city as text based drawings posted on popular billboard sites.
For me, this project engages critically with how community, cultural and whanau postpartum care has been marginalised in Aotearoa and explores new models of community postpartum care, while centring intergenerational knowledge sharing, healing and community building. As a society we focus so much on our birth stories, our stories of becoming, but what happens afterwards? How many of us know our own postpartum stories, or those of our ancestors?
We love that INHABIT focuses on building community and supporting new māmā with "wrap-around care as you heal from birth and beyond." What are some ways that we can support a new māmā, who has just given birth, whether it's her first, or fifth pēpi?
Show up and witness them in their journey! Crossing the threshold to new parenthood is big, important, and often challenging work, all folks deserve to be held and supported, not just in their physical recovery, but through the emotional adjustment as well.
Show up with nourishment, but don't stay too long. Postpartum folks need good food and treats but keep your visits short and sweet. Make māmā a cup of tea and a snack, do the dishes, or laundry while your there. Take the dog for a walk. Organise a meal train, or get groceries delivered. If they do have older kiddos, offer to pick them up and take them to the park or for a play date. Don't forget that these kids are adjusting to being big siblings as well and may need a little extra attention and love.
Don't assume that because someone already has children, they don't need your support. Every pregnancy, every baby and every feeding journey is different, and family building can stretch us beyond the edges we are familiar with.
If a new māmā was to attend INHABIT this week, what should they expect?
They can expect to walk into a warm, postpartum friendly environment, filled with herbal teas and tinctures, cozy chairs and plenty of helping hands.
They'll be offered nourishing vegetarian soup, made by me daily with Ayurvedic herbs and spices designed to support postpartum healing. There will be tea brewing and a safe place to spend time, with or without your baby, to share and listen to various postpartum experiences.
Workshops are happening daily, these can be signed up for on the website. They are facilitated by some incredible Wellington-based postpartum professionals and loving community members, including lactation consultants, doulas, baby wearing experts and maternal mental health counsellors. After the workshops are done, we all share lunch and folks are welcome to stay in the space for along as they like.
Everyone that comes into the space is encouraged to contribute to the Post-it wall project with messages to your past, present or future postpartum selves, friends or whanau.
You do not need to be a mother or even a parent to attend. Classes and community offerings are available free of charge and are inclusive of all sexual orientations and gender identities. INHABIT is warm and nurturing; a safe, inclusive space that is accessible and welcoming to all –  because there is one thing that we all have in common, we have all been born.
INHABIT sounds like something we need right across the motu! How can māmā outside of Wellington get involved?
Yes it is so needed! My vision for INHABIT is that it continues to grow and expand across Aotearoa. I'm currently looking for spaces to inhabit in Tamaki Makaurau, Auckland later this year, in the meantime, visit our website and subscribe to the newsletter to stay up to date. And follow us on instagram @inhabitpostpartum.
View this post on Instagram